Arm partners with government to create hack-resistant chips
Initiative claims strong passwords and regular updates aren't enough to prevent cyber attacks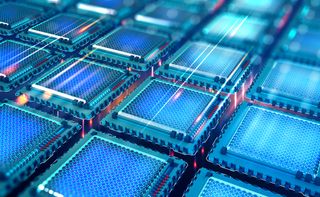 The government is partnering with Cambridge-based chipmaker Arm to invest 36 million into a five-year project to develop new attack-resistant chip technology.
Announced today by business secretary Andrea Leadsom, the project aims to prevent the frequency at which businesses suffer cyber attacks, which can then lead to data breaches, the loss of sensitive data and ultimately public trust.
The Department for Business, Energy and Industrial Strategy (BEIS) has yet to reveal much in the way of technical detail of the proposed new technology, but it's likely that the chips will be designed to be secure against attacks like Spectre and Meltdown.
"As these investments show, we are determined to create the right environment to foster our thriving digital economy while giving people renewed confidence and trust in online services," said Matt Warman, minister for digital and broadband.
"Thanks to our work with the UK's world-leading academic institutions and our business-friendly environment, we are helping entrepreneurs use technology to improve people's lives and find solutions to future challenges."
The BEIS notes that solid cyber hygiene isn't always enough to prevent cyber attacks. Strong passwords and effective patch management might not always be enough to prevent against malware that could lead to expensive data breaches.
It also notes that the cost of a data breach, which resulted in a loss of data, has risen more than 1,000 since 2018 to 4,180. This highlights the need for effective and innovative new hardware.
"Cyber-attacks can have a particularly nasty impact on businesses, from costing them thousands of pounds in essential revenue to reputational harm," said Leadsom.
"It's critical that we are ahead of the game and developing new technologies and methods to confront future threats, supporting our businesses and giving them peace of mind to deliver their products and services safely."
The new partnership marks an extension to the government's Digital Security by Design initiative, which previously focused on the security of internet of things (IoT) devices.
Major businesses including Microsoft and Google are backing the initiative which aims to encourage manufacturers of internet-facing devices to make their products more secure out of the box, such as implementing unique and changeable passwords for every unit.
It's especially common in routers where anyone can use Shodan to scan for a network, check the router model and then access it easily if the password is left at its default. A quick Google search of the device's default access credentials is all it would take.
A daily dose of IT news, reviews, features and insights, straight to your inbox!
Connor Jones is the News and Analysis Editor at ITPro, CloudPro, and ChannelPro. He oversees the three publications' news strategies and reports breaking news on the topics of cyber security, software, and Big Tech firms. He has a master's degree in Magazine Journalism from the University of Sheffield, and has previously written for the likes of Red Bull Esports and UNILAD tech during his career that started in 2015.
A daily dose of IT news, reviews, features and insights, straight to your inbox!
Thank you for signing up to ITPro. You will receive a verification email shortly.
There was a problem. Please refresh the page and try again.