Ten ways to protect your company from the next big data breach
Even big-name corporations can't prevent all breaches, but there are ways to protect your business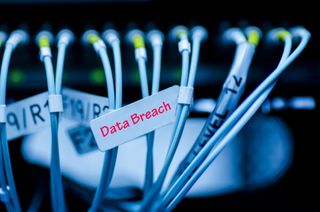 (Image credit: Getty Images)
Your company deals with sensitive information — all companies do. Whether it's customers' private information, your company's financial records and accounts, or that new top-secret project you don't want getting out just yet, keeping your data secure is a top priority. Unfortunately, it seems to be getting harder all the time.
RELATED RESOURCE
Secure hybrid cloud for dummies
Accelerate transformation with hybrid cloud
We've seen many major data breaches at many big name companies, including T-Mobile, Microsoft, and General Electric. Even the Internal Revenue Service (IRS) fell victim to a major data breach.
It doesn't matter if you're in charge of a Fortune 500 company or a small business, you must protect your data. While there's no foolproof way to secure all of your sensitive data, these steps can help prevent a data breach.
Data breach defined
Although the exact definition can vary between regulators, a data breach usually occurs when any unauthorised party gains access to confidential information.
The term usually covers everything from one of your own employees logging into a file without permission, to cyber criminals hacking into your systems and taking the personal information of employees and customers.
Normally a breach also involves the failure of a security layer, which results in the accidental or purposeful destruction, alteration, theft, or disclosure of protected data. It is considered a breach if an unauthorised individual simply looks at the data. The consequences can be severe for business, regardless of its exact nature.
The consequences of a data breach
The consequences of a data breach can be as varied as the different forms of breaches themselves. It could be as small as a single employee finding out his peers' salaries and threatening to sue for higher pay. Alternatively, it could be as severe as cyber criminals or hackers accessing your system's files and encrypting them before demanding a ransom.
If you follow recent news, you might have seen a variety of data breaches making the headlines which often involve accessing customer data, like addresses, names, social security numbers, and even credit card numbers. These breaches can cost the companies who are affected millions of dollars in lawsuits and lost business.
After a breach has occurred, detecting, defining, and recovering from the incident can be a long and slow process for an organisation. Although the consequences of this kind of leak can be brutal for larger corporations, they can be the death knell for a small business. The best strategy is to be prepared if it occurs and prevent it from ever happening.
10 steps to keeping your data safe
While there is no surefire way to eliminate all data breaches, these nine steps will help your business prevent catastrophic leaks.
1. Hire a professional
You probably have a financial controller or accountant in charge of payroll and accounts payable. Why would you not have a specialized IT security person to safeguard the entirety of your business?
Technology changes quickly, and you need someone dedicated and accountable who can find your vulnerabilities and help you shore them up. This IT watchdog can be your best bet in defending your business from external and internal data breaches.
2. Separate your business and personal accounts
Keeping your business and personal accounts separate should be obvious, but we're not talking just about bank accounts and credit cards. This separation also goes for all of your accounts, including email and data storage. Keep them separate and have unique passwords for everything.
The last thing you need is someone hacking into your personal email and suddenly having access to sensitive business data.
Make sure everyone in your company follows this practice too. It only takes one small mistake to expose the whole company.
3. Checkout FINRA
The Financial Industry Regulatory Authority (FINRA) is a government-authorized nonprofit organization that oversees US broker-dealers and has a pretty good handle on what it takes to have top-notch cybersecurity.
It has put together a Small Firm Cybersecurity Checklist that's a handy tool for any business looking to up its cyber security game. It's free to download and could help you secure some aspects of your business you hadn't thought about before.
4. Restrict access as much as possible
As much as possible, limit each employee's access to data. That means any employee who doesn't need access to a program or data file doesn't get access.
By all means, provide each employee with the permissions she needs to do their job, but limit anything that isn't necessary. The fewer people accessing data, the lower the risk of a breach—accidental or otherwise.
5. Minimize your data
Think of your business as your home, and all that data is the stuff in your home. The more things you have cluttering an area up, the harder it is to keep track of the important stuff. It's time to clean up.
Eliminate old programs or data files that serve no purpose. Team up with your IT security officer to establish the proper procedures for identifying and eliminating unnecessary files.
Keeping your data tidy can also help you identify a breach problem sooner too.
6. Encryption
Today's technology offers plenty of avenues for encrypting your data. Use them. Don't just encrypt data sitting in files; use encryption for files on the move through email and other means.
7. Educate your employees
One of the most common ways data breaches occur is through an honest employee mistake. You must teach your employees how to create unbreakable passwords and how to identify potential phishing scams and other security threats.
Train, test, and educate your employees on the importance of information security. It can be a tough job to get your employees on board with cyber security training, but it's essential.
8. Get the C-suite on board
Cyber security awareness and understanding must start at the top. If the company's executives don't fully understand the threat and consequences, it will create a difficult hurdle for each step of the process.
Cyber security is an investment, and like any investment a company makes, the C-suite needs to see the benefit before they'll be willing to pay for it.
9. Don't ignore hard copies
Data breaches don't always happen online. Printed documents can cause equal damage in the wrong hands. Keep all sensitive files in a locked cabinet and designate a gatekeeper who only gives access to those who truly need it.
Also, invest in a quality crosscut paper shredder to properly destroy any documents you need to eliminate.
10. Have a data breach response plan
While preventing a data breach is always the number one goal, your company needs to have an action plan for handling a breach. The ability to quickly detect a breach can save millions of dollars in some situations.
Talk with a cyber security professional and establish steps to identify, contain, and then recover from a data breach.
Data protection is an ongoing process
Once you've completed all 10 steps, get ready to do them all over again. Technology changes quickly, and cyber criminals are continually finding new ways to break into sensitive information and profit from it.
If you want to avoid becoming a victim of the next big data breach, stay one step ahead of the game. Companies that become complacent with their cyber security end up being vulnerable to attack.
Get the ITPro. daily newsletter
Receive our latest news, industry updates, featured resources and more. Sign up today to receive our FREE report on AI cyber crime & security - newly updated for 2023.