Fake airline tickets catch out 90% of phishing targets
Ignore that unexpected airline email - you're not going anywhere, though your data may be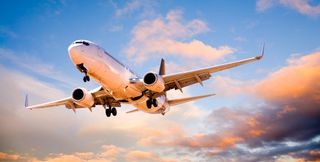 Phishing attacks designed to look like airline tickets catch out as many as 90% of their business targets, according to Barracuda Networks.
The security firm uncovered the specialist spin on standard phishing emails in its usual scans of customers' emails.
"We've seen this attack with several of our customers, especially in industries that deal with frequent shipping of goods or employee travel, such as logistics, shipping, and manufacturing," noted Asaf Cidon, vice president of content security services, in a blog post.
"Our analysis shows that for the airline phishing attack, attackers are successful over 90% of the time in getting employees to open airline impersonation emails," he added, though targets will need to open the attachment or click embedded links in order to be infected. "This is one of the highest success rates for phishing attacks."
The attack works so well because it combines multiple techniques, he said, starting with impersonation. "The attacker will either impersonate a travel agency or even an employee in HR or finance that is sending an airline ticket or e-ticket," Cidon said. "The email will be constructed to appear inconspicuous to the untrained recipient."
Using targeted research, the attacker selects a likely destination and airline that fit with what the company does or its location, he added.
The email will feature an attachment that appears to be a flight confirmation or receipt, perhaps in PDF or DOCX format. Once opened, the embedded malware kicks in. Some versions of the attack also include links, encouraging targets to click through to malicious pages that are designed to look like airline websites or travel booking systems.
"This step in the process is designed to trick the victim of the attack into entering corporate credentials into the site," Cidon said. "The attacker will then capture the credentials, and use them to infiltrate the corporate network and internal company systems, such as databases, email servers, and file servers."
What can companies do to avoid such attacks? Cidon advises companies to use sandboxing to prevent malware from ever reaching the corporate mail server, and using anti-phishing protection that scans links and looks for malicious code. And, as usual, training will help staff avoid being caught out.
A daily dose of IT news, reviews, features and insights, straight to your inbox!
A daily dose of IT news, reviews, features and insights, straight to your inbox!
Thank you for signing up to ITPro. You will receive a verification email shortly.
There was a problem. Please refresh the page and try again.