Intel launches more than 50 new 2nd-gen Xeon Scalable chips
Onslaught of new processors takes the fight to AMD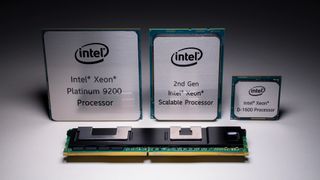 Intel has unveiled a mammoth slate of new data centre products, including more than 50 new Xeon processors.
The announcements come alongside the launch of the company's second-generation Xeon Scalable platform, designed for enterprise equipment such as servers and workstations. The new Xeon Scalable platform includes support for Intel's Optane range of memory and storage products, as well as an increased maximum boost clock of 4.4GHz.
In addition, the platform introduces a number of software features designed to maximise data centre performance for certain workloads.
Intel's new built-in Deep Learning Boost technology enhances AI applications by delivering improved inference throughput of up to 14x, as well as optimisations for the Intel Distribution of OpenVINO machine vision toolkit, while Intel Speed Select technology gives Infrastructure-as-a-Service providers more flexibility to configure CPU performance to meet changing workload requirements. The company's infrastructure management tools have also been overhauled to allow for better workload optimisation and resource utilisation within data centres.
Unsurprisingly, Intel has also baked new protections against side-channel attacks into the new platform - an effort to mitigate flaws like the disastrous Meltdown and Spectre vulnerabilities which were discovered in early 2018.
More than 50 new processors have been announced as part of the launch, the most advanced of which are the new Xeon Platinum 9200 series, boasting a whopping 56 cores and 112 threads with support for 12 channels of DDR4 memory at its top configuration. Designed for HPC, data analytics and AI applications, Intel claims such a monster chip will deliver "breakthrough levels of performance with the highest Intel architecture FLOPS per rack, along with the highest DDR4 native memory bandwidth support of any Intel Xeon processor platform".
Further down the scale, the company also announced the Xeon Platinum 8200 series, taking the place of what was previously Intel's beefiest Xeon range, the Xeon Platinum 8100. Like that line's top-end 8180 chip, the 8200 series will max out at 28 cores, with three UPI links and support for two, four and eight-plus socket configurations.
Two new Xeon Gold ranges were announced, too. The Xeon Gold 6200 and 5200 series are built specially for networking tasks, optimised for network function virtualisation (NFV) with support for Intel Select Speed technology and a claimed performance improvement of up to 1.76x for NFV tasks. The Xeon 6200 and 5200 series are available with a maximum of 24 and 18 cores, respectively.
At the bottom of the performance scale, Intel has launched new entry-level processor lines; the Xeon Silver 4200 series and Bronze 3200 series. The 4200 series goes up to a maximum of 12 cores, and is designed to be highly efficient at low power with a minimum TDP of 70W.
The Bronze 3200 range, meanwhile, is an entry-level part with up to eight cores, aimed at SMBs who are upgrading from the older Xeon E family. The company also announced that the second-generation Xeon Scalable platform would include purpose-built workstation processors designed for highly multi-threaded workloads.
Some more specialised products were also debuted, including new Xeon D-1600 SoC chips for use in edge computing environments with Intel's virtualisation and QuickAssist technology baked in and up to eight cores. They were followed by the company's new Agilex FPGAs, built using a 10nm manufacturing process, with up to 112Gb/sec transceiver data rates and support for PCIe Gen 5 and Optane persistent memory. As well as edge compute, the new FPGAs are aimed at 5G and embedded use-cases.
On the networking side, Intel targeted cloud providers with its new Ethernet 800 Series controller, which promises support for speeds of up to 100Gb/sec when it launches in Q3 this year. It also enables the use of Application Device Queues which, according to the company, "delivers greater than 50% increase in application response time predictability, more than 45% lower latency, and more than 30% improved throughput running open source Redis" - a database technology commonly deployed by cloud firms.
Latency-sensitive workloads will also reportedly benefit from increased speeds thanks to support for both iWARP and RoCE v2 Remote Direct Memory Access (RDMA).
Partners were not left out either. Intel is increasing its portfolio of 'Select Solutions' - hardware and software packages which have been co-developed with partners like Microsoft, Red Hat and VMware and certified for specific workloads. Nine new and updated packages were announced, including new bundles for SAP HANA, AI and HPC workloads, as well as updated options supporting Microsoft SQL Server, NFV, VMware vSAN and Microsoft Azure Stack HCI.
Six additional configurations will be coming soon, the company teased. It said it has more than 35 partners currently offering or working on offering packages in the future.
Finally, the silicon giant announced that it would be releasing Intel Security Libraries for Data Center (Intel SecL-DC). The single set of libraries and tools is designed to allow cloud providers to deploy and manage Intel's hardware-based security technology across large data centre estates, and is compatible with Kubernetes Extensions, Docker and OpenStack.
Intel has shown off a substantial amount of new technology. However, all of the new chips on the new second-generation Xeon Scalable platform have been produced using Intel's 14nm fabrication process - while main rival AMD has already shown off its second-generation Zen architecture with a 7nm, 64-core data centre-grade chip. Both parts have yet to make their way into production units.
Get the ITPro. daily newsletter
Receive our latest news, industry updates, featured resources and more. Sign up today to receive our FREE report on AI cyber crime & security - newly updated for 2023.
Adam Shepherd has been a technology journalist since 2015, covering everything from cloud storage and security, to smartphones and servers. Over the course of his career, he's seen the spread of 5G, the growing ubiquity of wireless devices, and the start of the connected revolution. He's also been to more trade shows and technology conferences than he cares to count.
Adam is an avid follower of the latest hardware innovations, and he is never happier than when tinkering with complex network configurations, or exploring a new Linux distro. He was also previously a co-host on the ITPro Podcast, where he was often found ranting about his love of strange gadgets, his disdain for Windows Mobile, and everything in between.
You can find Adam tweeting about enterprise technology (or more often bad jokes) @AdamShepherUK.