IT infrastructure: What are the building blocks of your company's technology?
Whether you're in the cloud or not, there's some central equipment every organisation needs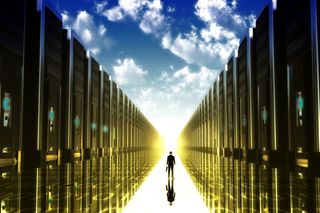 IT infrastructure comprises all the technology that underpins your company's software, processes and operations.
In short, it helps the organisation deliver IT services (and, increasingly, traditional processes like onboarding new staff) to employees.
As defined by ITIL v3, IT infrastructure is a combination of hardware, software, networks, facilities, and more. These are used to develop, test, deliver, monitor, control or support IT services.
Here is an explanation of the different components that will likely make up your IT infrastructure.
Servers
A server is a computer that has the hardware and software capabilities to enable multiple users to access and use its resources. The most common type is a file server that provides users with a central store of files. A directory server provides a central database of user accounts that are used to access server resources.
There are also web servers (using HyperText Transfer Protocol to deliver files to users via a web browser), database servers, application servers and print servers.
Even if you've moved a lot of your infrastructure to the cloud, you'll likely still have some servers lurking on-premise.
Data centres
The data centre is the central part of an organisation's network. It usually contains all your organisation's servers and contains most of its IT infrastructure. A data centre doesn't need to be owned by the organisation that uses it, or to be located on its premises. In fact, many businesses take advantage of colocation to reduce costs, or get rid of their data centres in favour of hosting their infrastructure in the cloud.
Networking equipment
Networking equipment is used to connect servers and user devices (such as computers, laptops, tablets and smartphones) to each other and the outside world via the internet.
A switch delivers connectivity between network devices on a Local Area Network (LAN). It has ports that physically connect to other devices. Routers are devices that route packets between networks. The default gateway configured for your IP address is the IP address of your router.
In addition to this is all the network cabling within an organisation's building and data centre. The main types of cabling are Ethernet twisted pair cabling or fibre optics.
Nowadays, most laptops, tablets and smartphones connect to a network wirelessly through an access point, which in turn is connected to a switch or router via a cabled connection.
Telecommunications equipment
This is the hardware used to transmit voice and data to and from an organisation. Expanding from plain old telephone systems, this equipment now covers PBX (private branch exchange) equipment for call centres, IP telephony, leased lines, as well as telephone lines, telephones and mobile phones.
Facilities and power
Facilities are used to house IT infrastructure, such as the building that contains an organisation's data centre equipment. In addition, data centres will also need electricity to power the servers, storage, and networking equipment, as well as cooling to ensure all this equipment doesn't overheat.
In addition to a mains supply, backup power is also required in case there's a power outage. These are usually diesel generators that can be started up quickly to ensure continuous running. There can also be uninterruptable power supplies, which are huge batteries that allow servers to continue running for a short time while other means of power are switched on.
Get the ITPro. daily newsletter
Receive our latest news, industry updates, featured resources and more. Sign up today to receive our FREE report on AI cyber crime & security - newly updated for 2023.
Rene Millman is a freelance writer and broadcaster who covers cybersecurity, AI, IoT, and the cloud. He also works as a contributing analyst at GigaOm and has previously worked as an analyst for Gartner covering the infrastructure market. He has made numerous television appearances to give his views and expertise on technology trends and companies that affect and shape our lives. You can follow Rene Millman on Twitter.