Are we hurtling towards digital transformation burnout?
With decision makers and developers under stress, innovation efforts could stagnate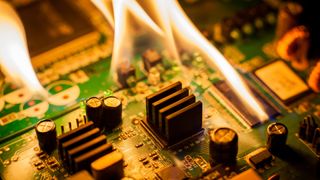 (Image credit: Shutterstock)
This article originally appeared in issue 22 of IT Pro 20/20, available here. To sign up to receive each new issue in your inbox, click here
The global COVID pandemic has been a powerful catalyst for digital transformation. The shift to remote working has driven infrastructure modernisation and employee reskilling, with a mass rollout of hardware and digital tools to help staff work from home. Research by cloud specialist Pulsant found that three-quarters of UK organisations accelerated their digital transformation in order to stay competitive in the new business environment, while a further 66% say the pandemic forced them to revisit their infrastructure strategy.
This acceleration has undoubtedly had benefits: a McKinsey report found that some companies had sped up the digitisation of their customer and supply-chain interactions, as well as their internal operations, by three to four years. However, it's having a negative effect on those tasked with keeping their organisation running effectively. It's estimated that 40% of IT decision makers have felt anxiety, a third are suffering from unsustainable stress and 21% have experienced burnout leading to absence from the business.
Sheldon Monteiro, EVP and chief product officer at Publicis Sapient told us: "The pandemic hit transformation teams with a double whammy. First, an acceleration of priorities, resulting in increased urgency, time pressures and longer hours for teams; and second, working from home eliminated in-person team connection and bonding, often combined with fatigue from having to focus on family, sometimes alongside work."
"The result, if not managed with empathetic and conscious leadership, will predictably increase employee depression, anxiety and stress. The incidences of burnout are real, especially for transformation teams."
Digital stagnation
Could the pressure that's recently been put onto IT teams have a knock-on effect on organisations' future digital transformation efforts?
"The short answer is yes," Paul Crerand, field CTO for EMEA at MuleSoft told us. "IT departments are under rising pressure to complete more work with fewer resources, which increases the risk that digital transformation will fall behind."
If burnout isn't managed, it can lead to depression, anxiety and stress
"This challenge isn't new, but the pandemic created a tipping point for it. Not only were IT teams tasked with keeping the lights on and supporting the rapid shift to remote working, they also saw a 30% increase in the number of projects they needed to complete to maintain 'business as usual' amidst unprecedented disruption.
"It's no surprise that many organisations are seeing burnout amongst their developers, and their digital transformation efforts are beginning to stall. In fact, only 37% of organisations were able to complete all of their digital transformation projects last year."
Lisa Heneghan, chief digital officer for KPMG UK echoed the warning. "Whether organisations can maintain this momentum depends on how much they have changed their ways of working and operating models to adapt to the digital age," she told us.
"Those who continue to operate in a similar way to how they were pre-pandemic, for example in a siloed nature, will struggle to keep pace, because they will not be able to achieve a broader perspective that offers large, lasting improvements. Developer teams will become increasingly overwhelmed, to the point where their workloads are no longer sustainable."
Security risk
RELATED RESOURCE
How virtual desktop infrastructure enables digital transformation
Challenges and benefits of VDI
Companies whose staff are suffering from burnout aren't just undermining future digital transformation efforts: they could be putting their security at risk. Research from Veritas found that just 47% of IT leaders considered that their security measures had kept up with their digital transformation initiatives – a figure that's unlikely to improve given the already beleaguered state of IT staffing.
"The challenge for IT teams is that, when their security lags behind their transformation projects, they're vulnerable to incidents such as ransomware attacks, which themselves put the team under even more pressure – as well as putting the business at risk," Barry Cashman, regional vice president, UK&I, Veritas Technologies, told us. "UK businesses estimate they suffered an average of 1.99 ransomware attacks that led to downtime over the last 12 months."
Brooks Wallace, VP EMEA at Deep Instincts, is also concerned about the effects of staff burnout on network security. He warned us that the pressure on security teams is often compounded by false positives and manual processes, which are major causes of developers becoming burnt out.
"With thousands of alerts generated every single day, and most ending up as false positives, it's no wonder that IT teams are struggling to maintain momentum and morale. For example, our researchers found a large enterprise was receiving around 75,000 alerts a day, with just two being legitimate threats," he explained.
"This is demoralising for SOC teams: our research states that 90% of CISOs claim that false positives contribute to low staff morale. And when organisations are breached, overworked IT teams are slow to react, with the average response time to a cyber incident being 20.2 hours – more than two working days. This gives the attackers a long dwell time, and leaves the door open for further attacks."
Beating burnout
What can organisations do to reduce the risk of burnout and keep pace with digital transformation and future innovation? According to Slack - which has been outspoken on the growing issue of staff burnout - the first step is empowering employees to say "no".
"Having experienced so much change over the past two years, people need to be empowered to focus on the things they can control: their priorities, energy, and attention. More than just setting work priorities, saying 'no' means setting realistic expectations," Stuart Templeton, head of UK at Slack, told us.
"Another is being selective with their time. Excessive meetings can be draining on employees and not a good use of company hours. Business leaders can help to fight burnout by encouraging asynchronous communication to give everyone more flexibility on where and when they work. After all, it's what workers want."
Others believe that embracing automation could also help reduce the risk. "There simply aren't enough skills to go round at the moment, but teams are stretched and they're tired, so employers need to find new ways of cutting them some slack," said Cashman. "In many cases, that means simplifying and automating processes."
"For example, instead of programming a different backup tool for every different environment, work with a single provider that can protect everything with rules set from a single pane of glass. Instead of relying on teampower to spot attacks, allow AI and ML-driven solutions to do that. When 'more people' can't be the universal solution, we need technology to step in."
The first step, according to Slack, is empowering employees to say "no"
Henegan believes that, ultimately, the answer is to ensure that digital transformation projects don't rest solely on IT teams' shoulders, by bringing in other areas of the business.
"The introduction of low-code platforms works as a catalyst for citizen development," she pointed out. "The ease of use and abstraction from traditional programming that these platforms offer almost invites tech-savvy business users to start building their own applications. However, it is critical to build clear guide rails around this to ensure consistency and optimisation."
"Investing in upskilling other members of staff with digital skills is key. For example, KPMG has its Digital Ninjas initiative – approximately 900 members of the organisation who sit outside of the IT department but who help colleagues use new technology tools and skills in their everyday work."
"Having a digitally literate workforce eases the overall workload for the developer team and allows them to focus more on business-critical tasks."
Get the ITPro. daily newsletter
Receive our latest news, industry updates, featured resources and more. Sign up today to receive our FREE report on AI cyber crime & security - newly updated for 2023.
Carly Page is a freelance technology journalist, editor and copywriter specialising in cyber security, B2B, and consumer technology. She has more than a decade of experience in the industry and has written for a range of publications including Forbes, IT Pro, the Metro, TechRadar, TechCrunch, TES, and WIRED, as well as offering copywriting and consultancy services.
Prior to entering the weird and wonderful world of freelance journalism, Carly served as editor of tech tabloid The INQUIRER from 2012 and 2019. She is also a graduate of the University of Lincoln, where she earned a degree in journalism.
You can check out Carly's ramblings (and her dog) on Twitter, or email her at hello@carlypagewrites.co.uk.