Intel announces first 3D XPoint-powered Octane SSD
New technology boasts speeds 1,000 times faster than NAND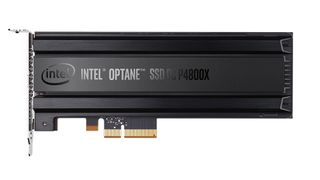 Intel has unveiled the first product to use its 3D XPoint memory technology. The DC P4800X is an Optane SSD, and will be focused on the data centre market.
The company's 3D XPoint technology (pronounced 'crosspoint') was first unveiled in July 2015, and is supposedly up to 1,000 times faster than current NAND architectures. This is due to its transistor-free checkerboard structure. Memory cells are individually addressable, which allows for small read/write sizes and therefore faster performance.
The P4800X is supposedly five to eight times quicker than competing SSDs at low queue depths and according to Intel, it's "ideal for critical applications with aggressive latency requirements", and will be well-suited to machine learning and data analytics applications.
Intel also claims that when used with MySQL, the P4800X can process up to 10 times more transactions per second with the same quality of service, with up to 91% lower cost per transaction.
"The Intel Optane SSD DC P4800X is the first product to combine the attributes of memory and storage," the company said. "With an industry-leading combination of high throughput, low latency, high QoS and ultra-high endurance, this innovative solution is optimised to break through data access bottlenecks by providing a new data storage tier."
The P4800X will initially be available in AIC form factor at a capacity of 375GB, albeit in limited quantities. Higher-capacity versions, as well as U.2 form factors, will be available later on in the year.
Picture courtesy of Intel
A daily dose of IT news, reviews, features and insights, straight to your inbox!
Adam Shepherd has been a technology journalist since 2015, covering everything from cloud storage and security, to smartphones and servers. Over the course of his career, he's seen the spread of 5G, the growing ubiquity of wireless devices, and the start of the connected revolution. He's also been to more trade shows and technology conferences than he cares to count.
As reviews and community editor, he's responsible for leading IT Pro's wide-ranging product coverage, and is an avid follower of the latest hardware innovations. He's never happier than when tinkering with complex network configurations, or exploring a new Linux distro.
In addition to managing the IT Pro Panel and working with the community of IT leaders that make it up, he co-hosts the IT Pro Podcast, where you can hear him ranting about his love of strange gadgets, his disdain for Windows Mobile, and everything in between.
You can find Adam tweeting about enterprise technology (or more often bad jokes) @AdamShepherUK, or you can email him at adam.shepherd@futurenet.com.
A daily dose of IT news, reviews, features and insights, straight to your inbox!
Thank you for signing up to ITPro. You will receive a verification email shortly.
There was a problem. Please refresh the page and try again.