How Apple built a $25 billion enterprise business in three years
How Tim Cook leveraged partnerships, products and privacy to succeed in B2B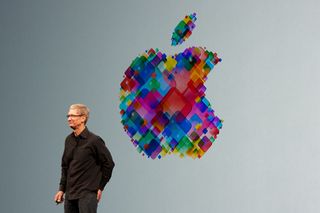 Tim Cook does not mess around.
Ever since the CEO of Apple took over from founder and original CEO Steve Jobs back in 2011, the company has been run differently.
Profits and revenues are still up, of course, and investors, who have been sceptical of Apple's potential for growth over the past few years, are still bullish on the company, valuing it at over $530 billion.
Under Cook, the same products - from the iPhone, Mac, and iPad to iOS and OS X - still exist and are being manufactured and updated, but the company has undeniably changed and expanded its focus.
One example of this change is the company's willingness to muscle in on the B2B market, traditionally the domain of the likes of Microsoft and Oracle. Running a B2B operation requires a different mindset from B2C (consumers), because businesses have different needs compared to consumers, who can be fickle, making it a much more long-term endeavour.
Despite the challenges involved, Apple has leveragedthe success of the iPhone, the changing landscape of the business world, and partnerships to turn its enterprise division into a hugely successful part of its company.
Specifically, Apple generated $25 billion in revenue from enterprise in 2015, a figure that rose 40 per cent year-over-year, up from virtually nothing in 2013.
Partnerships
That is how much Apple makes per year off its business-to-business deals, which have meant the company now works with Box, Microsoft, and IBM, in various ways that include both software, like OS X, and hardware, like the iPhone. According to some measurements, that figure puts Apple in the top 15 enterprise companies globally.
And, astonishingly, all of that money comes from a business that is less than four years old.
"The Apple partnership itself is focused on enterprise mobility in the form of business apps. It's all about empowering employees," says Robert Small, the head of the team at IBM that works alongside Apple.
The deal with IBM, which was recently expanded, is the first of its kind for the two companies and is an important step for Apple, which had infiltrated businesses at an employee, but not company, level. By working with IBM, Apple now has the software businesses want on the devices that employees actually want to use.
"Essentially, you've got IBM's expertise around enterprise," says Small, "[and Apple's] desirable devices. Broadly speaking, from a partnership we all bring different expertise to the table."
Small could not speak about the origins of the deal, but he did say that "the combination of technology and maturation of the enterprise market reached a point where [a] huge opportunity presented itself" for both companies.
The two tech giants have more than 100 enterprise-focused apps currently, with plans to make more. Even the number - 100 fully-fledged apps that cater to specific business needs - is incredible, according to Small, and has been made possible by Apple's open-mindedness and willingness to work with IBM.
Apple declined to contribute to this article.
Beyond IBM, which is also investing heavily in the Mac, on which it saves $270 over a Windows PC, Apple has a partnership with Cisco.
The deal was announced in August last year and included an on-stage appearance by Cook at the big sales conference hosted by Cisco every year.
"iOS is the world's best mobile platform, and nearly every Fortune 500 and Global 500 company today has put iOS at the centre of their mobile strategy," said Cook at the time. "Together with Cisco, we believe we can give businesses the tools to maximise the potential of iOS and help employees become even more productive using the devices they already love."
Hardware vs software
The business of enterprise is ideally suited to Cook, who worked as Apple's senior vice president for worldwide operations and then as its chief operating officer.
It is unclear how many people work on Apple's enterprise business worldwide but the company has its own team dedicated to working with IBM, according to Small, and it is likely that teams also exist for other partnerships.
Due to the iOS platforms' third-party app support, many enterprise deals do not require the company's direct involvement beyond supplying iPhones or iPads.
Office for iPad, for example, likely did not require any work from Apple as the app was developed, tested, and released by Microsoft as a third-party client. It is, however, unclear if the two companies have collaborated on any of the software since its release in 2014.
Apple has also unveiled a new set of educational applications and features in iOS 9.3, a beta version of the operating system that is expected to be rolled out to customers soon.
"Technology can reshape education," says Apple on its website. "And iPad, with its powerful features and apps, opens up new, more engaging ways of learning." The new features include account sharing, an easier way to manage multiple iPads, and increased security for personal data.
This overture comes at a time when Google, with its Chromebook computers, is taking over the education market for computers. According to CNBC, the company has shot from an almost-zero-percent share of the market to 46 per cent last year, ousting Microsoft and Apple, who both fell to 24 per cent.
Privacy
While some companies have found they have to provide incentives to get consumers to focus on privacy, B2B is an entirely different matter.
Enterprise focus on security and data protection are reinforced by the threat of fines and reputational damage if they do experience a leak, and, in industries like finance, compliance compels them to run a very tight ship.
Fortunately for Apple, privacy has also been a big theme of Tim Cook's time as CEO so far and this, too, can be seen as a way of assuring its customers - both consumers and businesses, alike - that the company will not, unless absolutely necessary, reveal any kind of personal or business information.
In his original letter on the subject, Cook wrote that "[a]t Apple, your trust means everything to us" before giving a passionate, and emotional, testament to the company's commitment to security.
This commitment has been tested over the past few weeks, as the FBI fights Apple over access to an iPhone owned by one of the San Bernardino shooters. Cook wrote another letter that described the FBI's request as "chilling".
Many, including the American public (according to a Pew Research Poll), have sided with the FBI in this instance, but Apple has stood its ground and its customers have taken notice. It's unclear what kind of affect this could have on Apple's enterprise business, but it's unlikely to be negative.
It is worth noting that Microsoft, a long-time industry stalwart when it comes to enterprise, is also fighting the FBI vehemently over access to data stored on a datacentre in Ireland. Apple has backed Microsoft in this case.
Where does Apple go from here?
Of course, Apple still has a long way to go. The iPhone, which was Apple's way into the enterprise business, won't be around forever, and it remains unclear what the company will do if, and when, people move to another platform, just as Microsoft has been slow to evolve as people have moved from Windows.
However, growing a business from nothing to $25 billion in a few short years is notable and the company has done it almost as an aside to its bigger iPhone business, which brought in around $50 billion in the three months leading up to January.
The iPad Pro, a 12.9-inch tablet that runs iOS, is one way Apple is looking to do it. Microsoft's Surface occupies a similar section of the market and has been seeing some success, which could have inspired the company.
Apple's selection of products - from the iPhone, Mac, and iPad to iOS and OS X - are, under Cook's guidance, the ideal tools for enterprise and capitalising on that has made Apple an entirely new player in the B2B market.
Picture credit:Mike Deerkoski
Get the ITPro. daily newsletter
Receive our latest news, industry updates, featured resources and more. Sign up today to receive our FREE report on AI cyber crime & security - newly updated for 2023.