Police crack-down on drone drug drops in prisons
Criminals use the devices to smuggle in contraband such as narcotics and mobile phones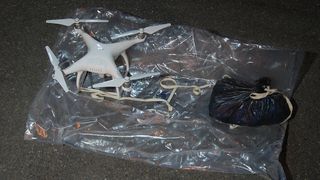 Police are cracking down on criminals using drones to drop drugs and other contraband items into prisons.
British police have assembled a specialised task force, known as Operation Airbourne, to prevent the smuggling of banned goods beyond prison walls.
In the early hours of Saturday 13 August, police observed a man acting suspiciously nearby London's Pentonville prison. He fled, dropping two bags containing Class B drugs and mobile phones, the Metropolitan police said in a statement.
"The following day, officers recovered a drone after tracking it flying over HMP Pentonville, before it crashed. Later in the day, they were alerted to another drone being flown towards the prison. The low flying drone was stopped mid-flight by an officer and a package containing a large quantity of drugs and two mobile phones was recovered from it."
Detective Chief Inspector Steve Heatley said: "These recovered drones carried a substantial amount of Class B drugs, legal highs and a large quantity of mobile phones; we are able to intercept them thanks to the vigilance of officers and the public. We work closely with the prison service to gather intelligence in order to carry out proactive operations to arrest and prosecute such offenders."
Surrey and Sussex Police force, meanwhile, is actually using drones to fight crime, with a total of five uniots at its disposal.
The machines have been used to aid missing people searches, airport security and crash scene investigations.
The UK government recently approved the testing of Amazon's Prime Air drones, delivering customer orders across the country.
A daily dose of IT news, reviews, features and insights, straight to your inbox!
A daily dose of IT news, reviews, features and insights, straight to your inbox!
Thank you for signing up to ITPro. You will receive a verification email shortly.
There was a problem. Please refresh the page and try again.