Google and Facebook reveal tools to battle fake news
The two companies are introducing new methods to fight against fake news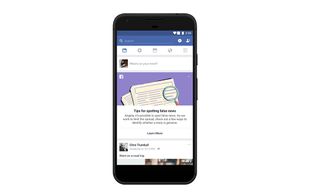 Google and Facebook have both announced new measures to fight against fake news on their websites.
Google announced today in a blog post that it is including "Fact Check" in Google Search and News around the world.
"For the first time, when you conduct a search on Google that returns an authoritative result containing fact checks for one or more public claims, you will see that information clearly on the search results page. The snippet will display information on the claim, who made the claim, and the fact check of that particular claim," it said.
These fact checks are not carried out by Google, who will instead rely on fact-checking organisations to verify that the information is true. Google explained that publishers may disagree on what's true or not, but "we think it's still helpful for people to understand the degree of consensus around a particular claim and have clear information on which sources agree."
This information will not be available for every search result. For publishers to be included in the feature, they must either use the Schema.org ClaimReview markup on the specific pages where they fact-check public statements or use the Share the Facts widget.
Facebook also announced yesterday that it is rolling out an educational tool to help users spot fake news.
The company has teamed up with First Draft, a non-profit that aims to improve the skills and standards in the reporting and sharing of information online.
"We're featuring this tool at the top of News Feed for a few days to people on Facebook in 14 countries," said Facebook VP of News Feed Adam Mosseri.
Clicking on the educational tool leads users to more information and resources in the Facebook Help Centre, such as tips on how to spot false news.
Facebook also announced that it is launching the Facebook Journalism Project and News Integrity Initiative, dedicated to stopping misinformation and false news.
The Facebook Journalism Project is a project where Facebook is teaming up with news organisations "to develop products together, providing tools and services for journalists, and helping people get better information so they can make smart choices about what they read."
Facebook has joined up with over 25 funders and participants, including academic institutions, tech leaders and nonprofits, to launch the News Integrity Initiative "a global consortium focused on helping people make informed judgments about the news they read and share online." The initiative's mission is to advance news literacy, to increase trust in journalism around the world, and to better inform the public conversation.
Earlier this week, the founder of eBay committed $100m to fighting fake news.
A daily dose of IT news, reviews, features and insights, straight to your inbox!
Zach Marzouk is a staff writer for IT Pro, Cloud Pro, and Channel Pro where he writes news articles and in-depth feature pieces primarily focused on Asia Pacific and the US. Aside from covering topics like security, privacy, worker rights, and startups, he also contributes to the IT Pro podcast and IT Pro 20/20.
After studying an undergraduate degree in Arabic and Spanish at the University of Leeds, Zach completed a journalism internship at The Argentina Independent in Buenos Aires where he wrote about the country's history, politics, and technology.
He then joined IT Pro in 2017 where he was introduced to the world of B2B technology as a junior staff writer, before he returned to Argentina in 2018, working in communications and as a copywriter. In 2021, he made his way back to IT Pro as a staff writer during the pandemic.
Contact him at zach.marzouk@futurenet.com or find Zach's thoughts (and more) on Twitter @ZachMarzouk
A daily dose of IT news, reviews, features and insights, straight to your inbox!
Thank you for signing up to ITPro. You will receive a verification email shortly.
There was a problem. Please refresh the page and try again.