What is a datacentre?
We explain what datacentres are and why they're so essential to modern business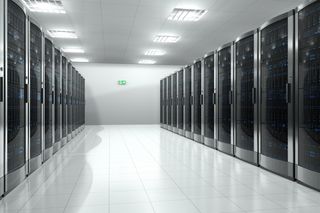 A datacentre is a facility - either on-premise or in the cloud - that's used to store all of a business's computer systems, data and applications. It forms the basis of a company's infrastructure, serving everything a business needs to keep its operation ticking over.
A datacentre could house servers, storage systems, databases, access networks, software and applications to store data and run applications, but its main task is to ensure business continuity, keeping it up and running 24/7.
Whether a datacentre is on-premise - ie., it's physically located at a company's office or located elsewhere and managed remotely, they still have the same role. It's just the way they're kept in check that changes. If looked after by a third party, such as a hosting company or cloud service provider, it means the organisation doesn't need to employ resources to look after their datacentre, instead investing in the services they provide rather than how they're run.
Cloud vs on-premise datacentres
If services are run on the cloud, it means they're utilising an off-premise datacentre. These can be managed by a public cloud provider such as AWS, Google or Microsoft, or a private cloud provider, such as IBM, Rackspace or Red Hat. Which you choose depends on the demands of your business, whether you need the extra security of owning your own cloud or need a more cost-effective, pay-per-use solution.
The primary business benefit of an on-premise datacentre is control; what traffic flows through it, what data is stored in it as well as how it's stored and who can access it are all regulated by the organisation itself.
However, on-premise datacentres are not as scalable as their cloud counterparts and they can take up a lot of physical space, sometimes occupying entire buildings. Additionally, while data centre infrastructure has become much more efficient in recent years, large ones can still consume huge amounts of power.
The cloud, by comparison, can easily be scaled up as needed and doesn't take up any physical space on the organisation's premises. It's also often cheaper because the company doesn't have to buy the equipment required for an on-premise set-up. Businesses operating in highly regulated industries where data privacy is paramount may find cloud isn't a viable option, however, because data laws often prevent the transfer of sensitive data to third parties.
Some organisations choose a hybrid approach, which could mean holding some of its most critical infrastructure on-premise with other workloads hosted in public or private clouds. This means they have more control over their most critical data but can also enjoy the flexibility of the cloud. It also avoids the significant upfront costs associated with installing and running large on-premise systems.
Why are datacentres so important?
No matter how small or large a company, a datacentre is an essential piece of infrastructure that should be implemented, even if the cloud (ie someone else's datacentre) is the preferred route for the majority of workloads. Without a datacentre, the vast majority of businesses can't function, because applications have nowhere to be run from and data have nowhere to be stored. Indeed, the amount of data even a small business holds can be vast and it's unlikely a single server will be up to the job.
Using a datacentre, whatever form that may take, can also be less risky than storing information on individual computers when it comes to the potential for data loss, providing you or your service provider, if you have gone down the cloud/managed hosting route, have a robust backup and recovery plan in place.
In short, the benefits of using a datacentre are innumerable and there are few arguments against having access to one even for a business as small as a sole trader in some form or another. Organisations not using a datacentre at all risk failure as a result.
Datacentres of the future
According to CBS Insights, 3% of all global electricity consumption comes from datacentres and it's not always clean energy. As more and more datacentres pop up around the world, climate change is having an effect on their design, particularly when it comes to taking advantage of surrounding environments.
One of the best examples of this is Microsoft's underwater datacentre, which is off the coast of Scotland. It runs 100% off locally produced renewable power from on-shore wind and solar farms, as well as tide and wave sources. And, it uses the ocean to stay cool.
There is a worry here that taking in cool water and then essentially pumping hot water back out into the ocean could negatively affect the surrounding sea life. And, being in the ocean, makes it difficult for engineers to fix problems should they arise.
More traditional structures are cropping up in Scandinavia where the climate is cool and more renewable energy is available. Facebook has a construction in Lulea, Sweden, that makes use of the areas hydropower and wind facilities. Reportedly, AWS and Microsoft are also looking at building datacentres in Sweden to capitalise on its cool climate and renewable energy expertise.
Get the ITPro. daily newsletter
Receive our latest news, industry updates, featured resources and more. Sign up today to receive our FREE report on AI cyber crime & security - newly updated for 2023.
Bobby Hellard is ITPro's Reviews Editor and has worked on CloudPro and ChannelPro since 2018. In his time at ITPro, Bobby has covered stories for all the major technology companies, such as Apple, Microsoft, Amazon and Facebook, and regularly attends industry-leading events such as AWS Re:Invent and Google Cloud Next.
Bobby mainly covers hardware reviews, but you will also recognise him as the face of many of our video reviews of laptops and smartphones.
He has been a journalist for ten years, originally covering sports, before moving into business technology with ITPro. He has bylines in The Independent, Vice and The Business Briefing. Contact him at bobby.hellard@futurenet.com or find him on Twitter: @bobbyhellard