Running a startup in the UK: What you need to know
We asked four startups about fundraising, technology and Brexit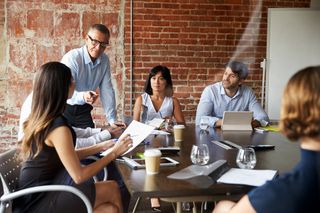 If you're thinking about launching your own startup it may seem like a daunting task. You're going to need to put in lots of hard work, carry out your market research and somehow find investors interested in your idea.
We spoke with four UK startups to see what they've learnt from their experiences and whether the future worries them.
Searching for investors
Investors are essential for startups, take a look at Darktrace which raised a huge $75 million in July. Where do you find these sources of funding?
Nick Miller is the founder and CEO of Buzzhire, an online booking platform for temporary work. He has raised funding three times, his first time raising half a million pounds from family and friends. A year later he attracted investment from a number of different angel investors and then closed a smaller round a few months ago.
He explains you need to have a clearly-defined vision, find investors that believe in that vision and surround yourself with a strong support structure. "I have also brought on advisers and investors and people from within the team who have specific sector experience that will help this company to grow and achieve the goals and vision that we have" he says.
KindLink is an online fundraising platform that doesn't charge charities to use its service, but also provides big businesses with a CSR platform, through which it generates revenue. The company's founder and CEO, Iskren Kulev, underlines that you need to target your investor, and find one in your sector or area. "The easiest way to find an investor is to look at similar companies, they don't have to be competitors" he says.
Kulev recommends looking for companies in their Series A or B stage and using Crunchbase to see who has invested in them. "These people know your industry, they are open to investment and you can approach them" he states.
Felicia Meyerowitz Singh, CEO and co-founder of Akoni, raised her funding mainly through personal networks. The company aims to provide a digital cash treasury manager which ensures a business's cash is earning the best rates by scanning the marketplace daily.
Meyerowitz Singh suggests researching who specialises in your sector space as well as the specific stage of growth. "Typically the process can be time consuming, and I suggest founders recognise the need to allow adequate time for planning and communications, as it means time away from the core business" she says.
Angela Bradbury, director and co-founder of automated headhunting firm Chime Advisers, also funded herself and recommends this path to others.
"If possible, do it without [external] funding, it really forces you to create something of value quickly, iterate fast, be careful with cash, make sure the unit economics stack up" she says.
Using the right technology
Teams need to be able to work effectively and collaboratively in order to succeed. Many businesses are exploring how to be agile and startups are following suit, thanks to new technology and accelerator programmes.
At KindLink, Kulev uses the complete Atlassian suite. This includes Confluence, HipChat and Jira, as well as the full tracking system for tasks and the development tools. Thanks to this software, if an investor or auditor comes along the startup can show them exactly what steps they've taken since the start as it's all recorded.
Kulev says his team also uses Skype, Facebook, WhatsApp and HipChat to communicate and calls G Suite a "technology we completely rely on".
Bradbury has praise for Slack too, saying: "We use Slack both to communicate as a team and to track our clients' interactions with our tech through the integrations Slack offers."
Miller agrees, but only when it's used and managed in the right way. "Like if we need to report urgent issues that need to be fixed, if there's a general update that needs to be given to the whole company or any kind of announcement," he says.
Internally, Buzzhire uses Charlie HR and work management is controlled through Jira as it can, according to Miller, "fully specify all the tasks within a certain sprint and plan out a roadmap for the tech team". The other teams at the startup usually use another application, Asana, to plan out their work and track the progress of tasks. Apart from that, they use Google Drive and share documents on it.
Meyerowitz Singh's team also uses Slack and Jira. Technology for her is critical across her business, such as in the application and front-end development. She uses MongoDB, Auth0 and Bootstrap as well as cloud infrastructure and data science tools too, including Python, Hadoop, mySQL and D3.
Brexit: Startup killer?
Many startups are worried about the effect Brexit will have on them -- fears the UK government has sought to calm by announcing a national startup fund to mitigate the Brexit risk, although how much money it would put into the fund hasn't been revealed.
From a long term perspective, Miller is worried as he believes the amount of funding available for young startups will be reduced. He says the EU provides a large amount of funding for businesses in the UK, which is presumed to disappear once Brexit is implemented.
"However, I think that for any European startup to really achieve the high levels of success they need to think outside of their country because the scalability of tech platforms far exceeds the potential within any single European country," he says, "so if you're based in London and you're not considering in the future expanding outside of the UK then you're not maximising the potential of that business."
Bradbury agrees: "The more hedged a startup can be, the better - if your potential pool of investors and customers is global rather than local to the UK for instance, that will help." She points out that cash is the lifeblood of any business, so if funding or revenue is harder to come by then many startups could go under.
Kulev highlights that as his startup works across financial services and his payment providers work across the board in Europe, it might cost him additional resources. He says Brexit would bring more complications, but right now it's not too much of a concern.
He admits: "I would be worried if they go for hard Brexit."
Although Brexit is on the horizon and it may become trickier for startups to navigate their markets, there may be new opportunities they can take advantage of too. Startups have a lot of hurdles to overcome and entrepreneurs need to be resilient in the face of these challenges.
Get the ITPro. daily newsletter
Receive our latest news, industry updates, featured resources and more. Sign up today to receive our FREE report on AI cyber crime & security - newly updated for 2023.
Zach Marzouk is a former ITPro, CloudPro, and ChannelPro staff writer, covering topics like security, privacy, worker rights, and startups, primarily in the Asia Pacific and the US regions. Zach joined ITPro in 2017 where he was introduced to the world of B2B technology as a junior staff writer, before he returned to Argentina in 2018, working in communications and as a copywriter. In 2021, he made his way back to ITPro as a staff writer during the pandemic, before joining the world of freelance in 2022.