How startup founders stay motivated
Startup founders share their tips for keeping their head in the game — and it could help you in your own work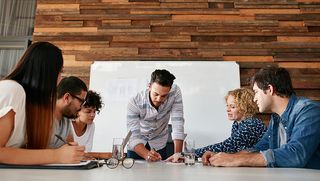 Startup founders don't know if their company will thrive or fail, and may never make a penny for their efforts, but for their business to be a success, they must work long hours and convince others to do the same.
It's been said as many as 90% of startups fail, though the real figure is likely closer to six in ten. Either way, founders and the staff they hire are likely working on a future failed business.
And yet, they somehow stay motivated or they try to, at least. We spoke to a dozen startups to find out what keeps them going when times get tough or outside gets distractingly sunny for tips and tricks the rest of us can bring to our own office lives, whether we're entrepreneurs or plain old wage slaves. Here's what they had to say.
Do what you believe in
It's not just about the money, says Stu Kelly, co-founder of insurance startup Zego. "If your motivation is the payoff then it's not likely to last. Hard work comes from being motivated by the idea."
Adam Fudakowski agreed, saying he has no trouble staying motivated. His firm, Switchee, produces smart thermostats to help combat fuel poverty and improve affordable housing management. "With this in mind motivation is rarely an issue."
He believes new staff need to see the benefit of their work, so encourages all Switchee employees to see an installation site. "This allows staff to witness all sides of the business and see first-hand the impact our product is having on some of the UK's most vulnerable residents," he says.
What does that mean for the rest of us? Find work you believe in, and it's easier to stay motivated.
Pace yourself
"When you start off, your motivation is just about building something great. It's a very clear, honest motivation," says Chris Edson, CEO of lifestyle change firm OurPath. "But the truth is, after a couple of years, other things start to take over. Your drive shifts gear a bit. Once you have external investors to be accountable to, a team you don't want to let down and contracts that you have to deliver, it becomes less about motivation. This is just what you do now, and you'll do anything necessary to make it a success."
Because of that, Mandeep Singh, co-founder of Trouva, says it's important to pace yourself. "The biggest lesson I've learnt is to take a break from time to time," he says. "Building a startup is a marathon, not a sprint, and it's important to realise that it's far better to make sure the team switches off rather than burning out, even if it's just taking 5-10 minutes to switch off from your screen or pause a meeting, to come back more engaged and focused."
Stay flexible, suggests Chris McCullough, CEO of data analytics firm Rotageek. His team works when it makes the most sense to them and his startup offers unlimited leave. "For example, we have a champion judo player on the team who often trains in the mornings during competition seasons," he says. "He'll then come to work a bit later in the day. And that's absolutely fine in fact, it's better that way. People are so much more efficient when they are happy and that's our attitude towards our team. Keep everyone happy, involved, and inspired and they'll do great things."
What does that mean for those of us working in standard jobs? Ask your manager if you can work from home or set your own hours and then use the time you save to do something important to you, such as spending time with family or exercise. That will leave you refreshed for work.
Find the right people to work with you and the right space
Everybody has a down day, but if you work alongside the right people, they'll help pick you up. Edward Griffiths, co-founder of online crafting community LoveCrafts, says it's easy to stay motivated when work is fun. "We believe that having the right people around us is critical to that sense of fun in the day to day," he says. "If the team is a joy to work with then we're happy facing the many challenges that startups necessarily need to overcome. If the journey is fun and exciting then motivation comes naturally."
Griffiths says it helps to have a fun space as well as coworkers you enjoy. "We realise that sometimes a little play helps sustain our working energies so there a few places for that [in our office] as well."
OurPath's Edson has a small team of eight people, but still invests in dedicated office space. "Having our own space we find really useful for having open discussions as a team," he says. "Plus, we can play K-pop in the office whenever we want!"
Richard White, CEO and co founder of property exchange startup Goodlord, says you shouldn't "buy the line" that startups need to suffer in terrible offices to prove themselves. "You want people to do their best work and feel like they are valued," he says. "Give them a space to do it. It's amazing how office space can make you grow up as a business and into the space."
Charlotte Pearce, CEO of Inkpact, which creates hand-crafted marketing materials, says you don't need to shell out on expensive workspace. "I think workplace does matter, but not fancy large offices with a table tennis table," she says, though her own does have a trampoline and neon signs. "It doesn't need to be expensive, crazy and excessive, but I do think the office needs to embrace the brand, the culture and be fun."
Zego's Kelly says not to put too much importance on workspaces, though. "Office space is definitely a multiplier for productivity and motivation, however I don't think it's too high on the list," he argues. "I would consider the team, the founders, the work, the culture, even the commute to be bigger multipliers for motivation and staff satisfaction."
What does this mean for you? Make sure your desk and workspace inspires you and if there's space available, set up a break room.
Get the right tools
The right crutch can help you hobble along when you're not at your best. It's no surprise that Slack, Wunderlist and Trello are well-used by startups to stay organised and focused IT Pro is a fan, too but there's others that are worth a look as well.
Lea Lange, founder of online curated art shop Juniqe, says her startup uses project management tracking software Asana. "We feel it's more productive than email, it handles task management really well and helps different teams working on the same projects a lot to keep track on the different to-dos."
OurPath's Edson swears by Google Inbox, which automatically organises your emails. "That acts as my complete to-do list on any given day and it takes a lot of mental load off of remembering to follow up emails," he says.
Those tools need not be apps. Rotageek's McCullough is a list fiend, a hangover from his days as a junior doctor. "To this day, I make lists and add checkboxes next to them. I love Wunderlist, Google Calendars and Evernote but nothing has taken me away from my Moleskine notebooks."
Zego's Kelly also favours pen and paper for his own organisation, but turns to Trello for the rest of the team. "Trello is a godsend for a company our size that doesn't need all the formality and overhead of a larger process management system like Jira."
Those of us not in charge of our day-to-day work lives may have organisational tools foisted on us, but it's worth learning how to use them to keep focused and motivated. Sometime, though, a pen-and-paper to-do list is the best motivator of all, as there's nothing quite like crossing off a completed job.
Main image credit: Bigstock
Get the ITPro. daily newsletter
Receive our latest news, industry updates, featured resources and more. Sign up today to receive our FREE report on AI cyber crime & security - newly updated for 2023.
Get the ITPro. daily newsletter
Receive our latest news, industry updates, featured resources and more. Sign up today to receive our FREE report on AI cyber crime & security - newly updated for 2023.
Thank you for signing up to ITPro.. You will receive a verification email shortly.
There was a problem. Please refresh the page and try again.