How to choose the perfect video conferencing kit
Full HD or 4K? How do you get audio right? We explore the options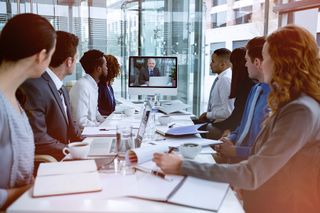 Effective communication has always been critical to success in business and in today's global economy that often means working closely with customers and partners in far-flung locations. Email and voice calls might be sufficient for basic exchanges of information, but videoconferencing (VC) offers clear benefits in communication and collaboration so it's no surprise that more businesses are embracing it.
VC isn't just about communicating outside of the company, either. Plenty of modern companies make use of virtual workplaces, where staff and teams don't share the same physical office. VC provides the facilities for face-to-face meetings, helping staff to be just as efficient and productive as an on-site team. It's good for morale too, allowing remote workers to feel more involved and less isolated.
When you think of dedicated VC hardware, you might picture the boardroom of a big corporation but it's nowadays a perfectly affordable option for SMBs. Indeed, it can pay for itself in mere months by drastically reducing travel costs and minimising the time that employees waste in transit. Environmentally-aware businesses will appreciate how it also reduces the pollution generated by road trips and flights.
Fancy meeting you here
When choosing a VC solution, you need to decide whether you want it to be portable or static. Portable models combine a camera, mics and a speaker in a single compact unit, and only require a USB connection to the computer that's running your chosen VC application. This makes them ideal for impromptu meetings, and they can be easily moved around and even transported to a client's premises if need be.
Static models generally feature separate camera and speakerphone units, and are best suited to meeting rooms where the tables and chairs stay in fixed positions. There are also hybrid models, which are too large to call truly portable, but combine the camera and microphone in a single unit that can be carried about to different rooms if required.
If you want to use your VC system in combination with a large, wall-mounted display, you'll find it convenient to choose a product that provides its own HDMI ports. If your system lacks these, you can still watch the remote side of the conversation on a TV or monitor, but this will need to be connected directly to the computer hosting the meeting app.
It's also worth looking out for Bluetooth and NFC support, which lets users easily pair their mobiles with the speakerphone unit to make hands-free calls.
Sound chaser
Setting up a VC system can be tedious, as you have to find somewhere to position the camera so that everyone is in shot. However, the latest VC products include a smart new feature designed to solve this. It comes with a range of names, such as "speaker tracking", "intelligent attention" and "RightSight"; whatever you call it, it uses the input from the microphone to work out where the person speaking is located, and dynamically focus the camera on them.
In our testing we found that the technology works extremely well; some systems even crop and frame the meeting room view to cut out distracting empty space around the speaker. The Owl Labs Meeting Owl makes clever use of a fisheye lens to provide intelligent framing over a full 360 view perfect for round-table meetings.
Other features worth looking out for are audio-processing technologies that can improve the sound quality of your meetings by automatically identifying and removing background noises such as traffic, keyboard clatter or paper shuffling, allowing listeners to hear the speaker more clearly. Static VC room solutions normally use multiple microphones to ensure everyone can be heard; most mics can easily pick up sound from up to 12ft away, but if you're organising a meeting around a long table, you should consider products that allow you to add more microphone pods to increase coverage.
Special 4K
When choosing your VC hardware, you may wonder whether it's worth going for a 4K "Ultra HD" system. In most cases, we suggest that it is. A lower-resolution system may be cheaper, but 4K technology is already firmly entrenched in the consumer market, and economies of scale mean that it won't be long before it becomes the standard.
The advantages are clear: 4K video has four times as many pixels as a 1080p HD feed. That means far more fine detail is captured, which can help participants pick up on facial expressions and get a good clear view of products and displays. Any text on whiteboards and in presentations will be crystal clear.
The main challenge to 4K uptake is its bandwidth requirements. All things being equal, four times the detail means four times the data. To get a smooth 4K video feed requires at least 15Mbits/sec of dedicated bandwidth and preferably 25Mbits/sec.
If that's a stretch, new technologies can help. The H.265 HEVC (high efficiency video coding) standard aims to slash 4K bandwidth requirements by as much as half. Other solutions use proprietary encoding, such as the Lifesize software that claims to require as little as 3Mbits/sec for 4K video and 6Mbits/sec for presentations.
Be in my video
If you're worried about whether your VC hardware will work with your preferred communications platform, fear not. All major systems are USB video class-compliant, so they don't require any special drivers, and many support a range of VC platforms, including Cisco Webex, Google Hangouts, BlueJeans, Skype for Business, Zoom and more. Even so, we recommend trialling them first to make sure they have the features and mobile support your users demand.
No matter what your needs, sophisticated videoconferencing products are now becoming very affordable for businesses of all sizes allowing you to embrace the virtual workplace and reap its cost benefits. Read on for our reviews of four quite different VC systems, with differing designs and price points, to find the one that will help you enhance and unify your communications rather than complicating them.
Get the ITPro. daily newsletter
Receive our latest news, industry updates, featured resources and more. Sign up today to receive our FREE report on AI cyber crime & security - newly updated for 2023.
Dave is an IT consultant and freelance journalist specialising in hands-on reviews of computer networking products covering all market sectors from small businesses to enterprises. Founder of Binary Testing Ltd – the UK's premier independent network testing laboratory - Dave has over 45 years of experience in the IT industry.
Dave has produced many thousands of in-depth business networking product reviews from his lab which have been reproduced globally. Writing for ITPro and its sister title, PC Pro, he covers all areas of business IT infrastructure, including servers, storage, network security, data protection, cloud, infrastructure and services.