Web needs creative spark, says Tim Berners-Lee
Creator of the world wide web tells students at the University of Southampton that creativity is the key to web sciences.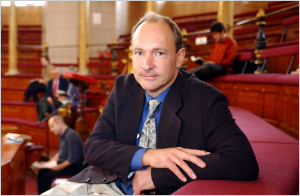 The creator of the web gave university students a master class in designing online technologies, describing the creative spark needed to be innovative on the internet.
Tim Berners-Lee, the man who invented the world wide web, told students in his inaugural lecture as chair of computer science at the University of Southampton's school of Electronics and Computer Science (ECS) that "if you can imagine it, then you can program it."
In his speech, "The Web: Looking back, looking forward," which he also gave to the British Computer Society in their annual Lovelace Lecture the night before, Berners-Lee described the creative process behind of web science.
"Creativity is a really interesting phenomenon. It happens inside our heads and we can't look at that," he said. "We don't get that creativity from computers."
"If you come across artists and musicians who think they have a monopoly on creativity, as an engineer - set them straight," he added.
While the online world is backed by technology, the human element isn't very precise, he said. "Could they prove mathematically that eBay would be a success? No, they had a hunch," he said.
He noted patterns in the development of innovations such as email, search engines and wikis. They all started with creative answers to frustrating issues and were solved using combinations of technological and social design. While they started off being used by small, friendly communities, they eventually exploded into mainstream use, which caused new problems needing new creative solutions.
Because the web is so flexible and universal, such new problems - which were never thought of at the start of the web - remain solvable. The web works, he said, because it's collaborative, independent and universal. Because the web is layered, other people can build on top of it, adding functionality. "You can do the thing which will be unveiled tomorrow which none of us here have imagined yet," he said. But more than that, the web needed to be universal, free of language or software constraints.
The next area of innovation Berners-Lee is focusing on is the semantic web. "The web is the only thing sufficiently flexible to represent everything out there," he said.
To continue building on the web, more research and study will need to happen, however. To succeed on the web, you need to be an expert in web psychology, online economics and computer engineering. "It's changed the world, but it's hard to get people to study it," he told journalists ahead of the lecture.
"It turns out that in many ways, it's the elephant in the room," Berners-Lee said. "It hasn't been an object of scientific inquiry." Because of this, he and fellow colleagues created the Web Science Research Initiative, a body to encourage the study of web science - a new interdisciplinary field which brings together the social and technological aspects of online innovations.
Get the ITPro. daily newsletter
Receive our latest news, industry updates, featured resources and more. Sign up today to receive our FREE report on AI cyber crime & security - newly updated for 2023.