Mobiles promise VoIP integration, but not yet
Analysis: Integrating mobile phones and internet telephony has been high on the agenda at both the 3GSM and CeBIT in recent week, as user and network operator demand for VoIP via mobile handsets and networks grows.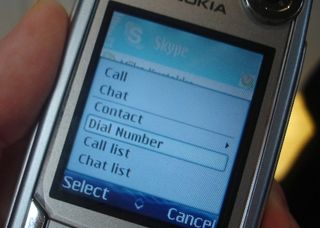 Voice over IP (VoIP) has had an uneasy relationship with mobile phone operators, which have previously shunned the technology for fear it would cannibalise their existing business, despite demand from users and pressure from software and solution providers to get the technology onto mobile phones.
And the technology is also moving up the business agenda, companies see potential cost savings, as well as efficiency gains, from tying together mobiles and their office phone systems.
The move to IP-based telephony promises to make this much easier. A number of PBX vendors already offer "mobile extensions" so that a company's staff members can be reached on their mobile phones using internal short codes and other convenience features. But such systems rely on relatively costly mobile airtime.
Wi-Fi-equipped mobile phones promise to overcome these cost issues, by bypassing the cellular network and carrying voice traffic over either a company's internal wireless network, or potentially, a public hotspot.
As long as a mobile phone supports a standard IP telephony protocol such as SIP, there is nothing to prevent it being used in the office in exactly the same way as a fixed or even cordless VoIP handset. But businesses will face a number of hurdles before they can make this work.
The first issue is the technology itself. Running IP telephony as well as cellular connections demands a lot from a relatively low-powered device such as a mobile phone or even a PDA. Add to that the need to maintain a Wi-Fi connection - which saps power - and there it becomes clear that there is more to connecting mobiles and VoIP together than simply programming in the SIP settings (although this is, in itself often a less than trivial task).
Gradwell, a provider of internet and IP telephony services in the UK, currently supports Symbian-based Nokia handsets such as the E65 on its network, using Wi-Fi for the local connection. But managing director Peter Gradwell concedes that making the technology work has been a struggle.
"We have seen a lot of interest in mobile technology but it is only in the last three months that vendors such as Nokia have got the software working," he says. "We have found that the Nokia E Series [enterprise mobile handsets] are the only ones that work really well." Users of Windows Mobile devices will, he suggests, probably need to wait until Windows Mobile 6 for similar support.
So far, software developers have struggled to create viable "soft phone" VoIP clients for Windows Mobile 5, even where they had already written useable clients for previous Pocket PC implementations.
One reason, says Truphone chief executive James Tagg, is that it is currently much harder in Windows Mobile to gain access to the low-level code stacks that are needed to make VoIP work. Truphone is a VoIP to mobile provider and currently has eight compatible handsets in its line-up, again all from Nokia.
"To make VoIP on a mobile work it needs to be well integrated with power management, and with the Wi-Fi chipset," he says. "Windows Mobile has a lot of work to do in order to run the user interface, to run Wi-Fi and have enough power left to run VoIP at a reasonable rate. In part, it is also a hardware limitation. But Nokia provides incredibly low-level access to what we need."
And equipment and software vendors still need to address the issue of seamless handover between cellular and WiFi connections, so that phone users can walk out of a Wi-Fi coverage and still continue to talk. Although there are some high-end enterprise solutions that can support such features, the costs can be high.
At CeBIT earlier this month, Siemens unveiled technology, called MobileConnect that will do just that, but at €5,000 for a 10-user system, not including Nokia E60 handsets, it is an expensive option that is only likely to make sense for companies where staff make a lot of mobile calls, but are often within reach of a wireless LAN.
For smaller businesses, the option of installing standard SIP software on a Wi-Fi-equipped mobile, even without seamless handover, might be the more straightforward and cost-effective option. For staff who travel frequently, the cost savings from using a dual-mode phone might well make the set-up issues worth tackling.
This is especially the case if companies can encourage employees to use their WLAN-compatible phones rather than running up international mobile roaming bills. But proving the return on investment for such investments is notoriously hard.
"You would have to see some pretty big savings [in voice telephony costs] to justify it," cautions Phil Sayer, an analyst at Forrester Research Research. "We are seeing large enterprises try it, but making the business case is still difficult."
Get the ITPro. daily newsletter
Receive our latest news, industry updates, featured resources and more. Sign up today to receive our FREE report on AI cyber crime & security - newly updated for 2023.