The end of 32-bit Windows is nigh!
Microsoft uses its WinHEC 2007 conference to announce a very dull new name for Longhorn Server, bury the 32-bit OS and turn attention towards 64-bit and multicore development.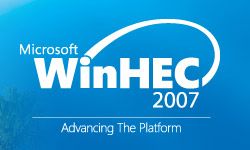 Microsoft has used its annual Windows Hardware Engineering Conference (WinHEC) to outline its post-Vista roadmap with hardware and driver developers, including stark plans for the long-term future of its 32-bit operating system platform.
In various keynote speeches executives juggled yesterday, today and tomorrow, encouraging developers to certify their hardware and to complete the process of shipping Windows Vista drivers, while looking forward to several new platform releases due this year.
The Windows Server roadmap has also been refreshed. This will begin with the end of year release of Windows Server 2008 to be followed by 2008 releases for medium and small business editions, along with a new version of Storage Server. The 2009 release of Windows Server 2008 R2 will be 64-bit only. "Windows Server 2008 will be Microsoft's last 32-bit operating system" said Bill Laing, general manager of the Windows Server division. Microsoft has drawn a line in the sand, and the days of the 32-bit OS are quite definitely numbered.
Microsoft chairman Bill Gates offered a picture of a series of what he called "megatrends" that are reshaping the industry. Ranging from the power of current and future hardware, through to service architectures, he sees it as a future where "in fact, we're getting intelligence everywhere in the networks now".
Pervasive connectivity will help bring about a blend of software and services, and Gates noted that "the key to allow this to push forward is the advances in hardware and software, and the standards that allow those two to come together". His theme was carried by a series of demonstrations of Windows Vista features, from the Windows Rally technologies used to simplify connections to consumer network devices, to its integration with the upcoming Home Server.
WinHEC isn't just about consumer hardware and software, and Gates also removed the wraps from the name of the next Windows Server release, previously codenamed Longhorn Server, joking that "What we're going to go with is pretty straightforward". Windows Server 2008 is expected to be released to manufacturing by the end of the year. Windows Server 2008 will include network access protection tools to prevent insecure PCs from connecting to a corporate network, as well as tools to control USB device access.
Craig Mundie, Microsoft's chief research and strategy officer, took a different track, looking at how IT is changing the world, and showing how Microsoft expects the computing environment of tomorrow to evolve. Mundie suggested that instead of devices like the One Laptop Per Child (OLPC) initiative, the future of developing world computing was the smartphone - a relatively low-cost, high-volume platform. Connecting phones to keyboards and TV screens could help bring about what Mundie called "computing for all".
Mundie also discussed what's rapidly becoming one of the IT industry's more pressing problems - the switch from increasing clock rates to increasing numbers of cores. He suggested that the key challenges are those of "concurrency and complexity", where new techniques are required - especially in managing decentralised systems, which will need to be resilient in complex, variable environments. The future is one of fine-grained parallel programs, which coordinate resources and services. Developers will need common building blocks to develop the next generation of applications. Mundie said that "The stable controlled world is gone". There is an upside - what Mundie calls "Fully productive computing", where speculative execution means applications become more responsive, and hardware is utilised more effectively.
Laing also unveiled more details of Windows Server 2008, including a new set of tools for handling hardware errors called the Windows Hardware Error Architecture (WHEA). In a demonstration this was used to transfer operations from one hardware partition to another - with minimal interruption to services.
Get the ITPro. daily newsletter
Receive our latest news, industry updates, featured resources and more. Sign up today to receive our FREE report on AI cyber crime & security - newly updated for 2023.