Apple unveils final details of Mac OS X Leopard
Apple's desktop operating system gets a makeover, as well as new features including a revised version of Quicktime, a new Finder, better file sharing and an extended desktop work area.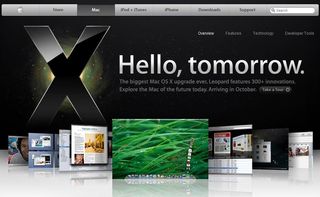 Apple has unveiled a radically overhauled desktop for its next release of Mac OS X, codenamed Leopard.
The desktop environment in Leopard sports a 3D application dock, a new Finder and QuickLook, a new document preview tool building on the existing Preview application.
Changes to the Dock are largely aesthetic, with 3D-effect icons standing up from the Dock platform. But the Dock is also the home for smart folders that display their contents by fanning out or as a grid. An additional organisational tool is Stacks, which can be used to group frequently used or related items, much like smart folders in Tiger but with a much improved interface. Stacks can also be used an application launcher, for instance. One stack will be included with new Leopard installations: all downloads will automatically be added to this by default, rather than sprayed on the desktop.
The new Finder borrows technology from iTunes, using the Cover Flow interface to browse for files rather than music or cover art. Once you have located a file, QuickLook lets you preview it without having to open its application.
The Finder also adds Bonjour file sharing, reducing the need to work with IP or AFP addresses to mount remote volumes, even Windows volumes.
Users of the .Mac managed services subscription will be able to access Macs remotely direct from the Finder. Macs automatically tell .Mac their IP address, so that .Mac can enable them to talk to each other. Files and folders can then be copied from one to another within the Finder as if they were on the same local network.
QuickLook pretty much does what it says. Select a file and you can have a quick look at hat it contains, full-screen if you desire. Select a presentation and a set of controls appear for flipping through the slides; click on a video and movie files appear.
The three features of the new-look desktop - Stacks, Finder and QuickLook - were the highlight of Apple chief executive Steve Jobs presentation of 10 of Leopard's 300 new features.
Jobs' assured developers at the company's Worldwide Developer Conference (WWDC) in San Francisco that 64-bit applications run on every copy of Leopard. Unlike Windows Vista there will not be separate 64-bit and 32-bit apps.
"Leopard really will be the first time that 64-bit goes mainstream in the PC world," Jobs said. For users the difference will be apparent only in performance.
The remaining six features had already been seen in Jobs' first Leopard preview 10 months ago. These include Core Animation, Boot Camp dual OS booting, Spaces virtual desktops, Dashboard with point-and-click tools for building custom widgets, iChat Theatre for sharing documents in real time plus the addition of Photo Booth effects for iChat video chats, and Time Machine, which will automate backing up in "a simple way that people actually use".
Rumoured new features that did not materialise included a virtualisation engine for running Windows. But Jobs intimated that Apple is very happy with third party virtualisation tools from Parallels and VMware.
This disappointed Shaw Wu, analyst at American Technology Research, who described Jobs' keynote as "underwhelming".
"The announcements were more around user-interface changes rather than something more radical,' Wu said. 'So I think that was disappointing and investors were hoping for more."
Investor's Business Daily said that Apple shareholders were disappointed at the lack of a 'wow' announcement, with Apple's share price falling 3.5 per cent after the keynote closed. In fact the keynote had two big surprises - third-party software for iPhones, Safari for Windows - plus considerable evidence that Leopard will be an operating system of unmatched power and functionality.
OS X 10.5 Leopard will ship in October for 89 ($129). Jobs had the audience worried for a moment when he said the 'basic version of Leopard' would cost $129. But it soon cottoned on to the joke at Microsoft's expense as Jobs continued to ever-louder cheers: "we've got a Premium version that's gonna cost $129, we have a Business version that's gonna cost $129, we have an Enterprise version that's gonna cost $129, and we have the Ultimate version - we're throwing everything into it - it's $129".
Jobs' WWDC keynote can be seen in full, in QuickTime at apple.com/quicktime/qtv/keynote. Worth watching for the iChat effects alone and Microsoft chief executive Steve Ballmer telling the audience "I love my Mac".
A daily dose of IT news, reviews, features and insights, straight to your inbox!
A daily dose of IT news, reviews, features and insights, straight to your inbox!
Thank you for signing up to ITPro. You will receive a verification email shortly.
There was a problem. Please refresh the page and try again.