Low-cost computing gets professional for Afghan school
Low-cost thin client computing technology has helped a women's business school in Kandahar, Afghanistan bulk up its IT offering, while keeping energy and maintenance low.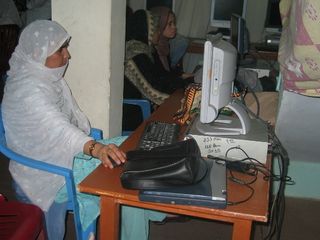 While some developing countries race ahead with technology - think China, India and Vietnam - others risk falling even further behind.
Because of this, programmes like One Laptop Per Child (OLPC) and their XO laptop device - and its rivals, such as the Asus EEE PC - are being snapped up by countries around the world to improve their IT skills.
One such country is Afghanistan. Telecoms companies are rolling out wireless access, OLPC is sending out devices, yet basic education is impossible in some regions. A country in flux since its creation, Afghanistan's hundreds of years of wars and political instability have lead to years of economic deprivation. Rebuilding - indeed, building - a modern infrastructure for such a place is no easy task, made all the more difficult by cultural barriers, poor levels of education and ongoing violence.
However, while low-cost laptops are perfect for helping children learn the basics, Ehsan Ullah needs business-class machines to teach his adult students.
Ullah is the director at the Afghan Canadian Community Centre (ACCC), a year-old school for 200 students, predominantly women, in conservative Kandahar. A hundred more have applied to study, so the school desperately needs more computers.
The Afghan Canadian Community Centre
In Afghanistan, primary education is free for both genders - assuming parents allow their children to attend or that students can manage to get to a school. In Kandahar, there are government schools available for young girls to attend, but they teach basic subjects - not those needed to get a job.
This is where the ACCC is different. Rather than teach the basics, it offers an adult education development programme - teaching a variety of subjects from business to politics, with a strong focus on IT. "For girls and women who need to go to work and get jobs, they need skills in computers," Ullah said. "ACCC is the only school in Kandahar area that offers these job-oriented training programs."
It's not easy. Despite being supported by the Canadian-based Afghan School Project funding programme, money is tight. IT instructors earn little. Equipment is hard to come by and power is an ongoing challenge.
Even with funding, internet access and educators at the ready, other obstacles remain: culture, religion and violence. "Kandahar is a deeply conservative and anti-women society, so it is very difficult finding adult female students to attend professional training centres like ACCC," said Ullah. "For a woman, getting education or working in an office is considered dishonourable for the family in Kandahar society."
Not all families are like this, he said, and some of the more progressive allow their daughters to be educated, but conflict remains. "As Kandahar is a very much male dominant society supported by Taliban and Al-Qaeda anti-woman mentality, it gets... risky for both the family that allow the women education to happen and those who provide education or work opportunities to the women."
Several months back, three students were attacked by motorcyclists. A student and her sisters were threatened and stopped when leaving the ACCC. A bus rented for a separate training project in Helmand province was sprayed with gunfire, killing the driver and injuring the students. The director of the Women Department in Kandahar, who Ullah has worked closely with, was killed last year. "Every girl student or a working woman has a story of getting hassled by goons who are let loose on the streets or get death threats from fanatic elements," said Ullah.
One student, Suhila, said: "I am not frightened... but the environment makes us worry about certain hazardous events that are going to happen to us today or tomorrow, such us kidnapping, gunfire, being threatened and so on..."
The threats are not just against the students, Ullah said: "I am under continuous death threats. I have been warned to stop teaching women. Friends have been telling me that I must quit teaching and operating schools."
Despite the risks, the brave and progressive come to the centre to get an education and work. And pushing on - despite the challenges - is necessary. As is the norm in the developed world, getting a job in government or business requires IT skills, Ullah added.
Due to this, business-ready computers with internet access are essential to the school, even for classes outside of the IT remit, as paper textbooks are hard to come by and costly. Indeed, web-capable computers allow flexibility for the course curriculum - key to letting the ACCC respond to the needs of local employers and ensure the students get jobs.
The IT setup
The IT setup in the school is simple, as it must be. The ACCC has 27 computers currently functioning across three labs. There are three printers, but they've mostly run out of ink. Everything is powered by a generator, as the local grid isn't stable enough. "Using a heavy duty generator we have no problem with powering the computers, except the increased fuel cost and generator maintenance cost," said Ullah. He is looking to improve the school's energy efficiency, including by switching out old monitors with LCD ones.
Accessing the internet has been frustrating. The connection the school has is good enough for about eight computers, but has been split between 12. Students have to wait minutes for each page to load.
Two of the three computer labs are used for training - be it accessing the online business management programmes from a Canadian college, the Southern Alberta Institute of Technology (SAIT) or doing research online. The third lab is a free internet caf for local women, who use it to check their email, chat and yes, even Facebook. The computers are installed with Windows applications, including Office, and are also used to teach networking and graphic design.
Thanks to Ullah's good reputation in the community and the success former students from the school have had finding jobs, students far outnumber computers - the school has even started teaching men to meet demand for well-trained government employees. But purchasing new desktops is expensive and shipping them even more so. Indeed, the Afghan School Project declines offers of used Western computers because the cost of shipping outweighs the worth of the computer.
So the school faces a problem. It can't afford stacks of new computers nor the energy to run them, but it desperately needs to expand the programme.
The NComputing trial
Such challenges have had a surprisingly cutting-edge solution. Over the summer, a firm called NComputing started hawking their wares in the UK. The education-focused devices split out the CPUs from a single desktop machine to as many as 30 additional workstations or set up workstations based on a server - think low-cost thin client computing.
The devices lower the cost per seat in hardware costs, but also reduce the amount of maintenance and energy required. The system also lowers costs in upgrades, as rather than replace every seat once every five-year refresh cycle, schools can upgrade just the host or server machines - and put all the savings into buying better ones. "What we are hearing is the classic justification for corporate thin client computing," said the firm's chief executive Stephen Dukker. But those devices can cost hundreds of pounds per seat, if not more. "Here, technology for the rich becomes an enabler for resource-restrained communities."
NComputing offers two series. The X series are plugged directly into PCs using PCI cards, while the L series use Ethernet, and can therefore be used over a network. The X300 and L200 use just five watts of power an hour and retail for 149 and 129 respectively, without including monitors and other peripherals.
The devices are small and lightweight - the new L230 is just 770 grams. The devices feature solid-state drives - in that sense similar to Asus' EEE laptop - and have no fans, which makes them energy efficient and durable. The boxes have tested reliable for over 100,000 hours.
While the technology has been proven across the US and the developing world - the company has four per cent of the US educational market and the entire student base in Macedonia - NComputing sent over a few boxes, the X300 and L200, for the ACCC to trial.
Ullah's team had no trouble setting the system up. "The advantages are power efficiency and zero maintenance," he said. The hosting system does slow down the user experience, especially when the host computer isn't powerful enough, but upgrading the base computer would solve that, said Ullah.
The system was easy for the students to use, as at the user point, it looks much the same as a basic desktop. "The students were a little surprised when they saw the way the NComputing system worked," said Ullah. "But they did not notice a big difference... they worked for them just like standard computers."
The result
While the school is in early days with the trial, Ullah highly recommended the system for large schools because they are cost-effective, power efficient, and easy to transport. Though many IT headaches still remain for Ullah, this system can solve a few.
Indeed, Ullah liked the setup - especially the ease of upgrades and energy efficiency - so much, he asked for more boxes from the L series. NComputing have offered a solid discount for 20 more L230s, while telecoms firm Roshan are matching any funds raised to cover costs of new monitors and peripherals.
Computers and wireless access won't bring Afghanistan into modern times, and no amount of technology can prevent the violence being directed at students and staff of the school. But well-educated, technologically-savvy people can achieve all those aims, and more - including bringing women into a position of power in Afghanistan.
Want to help?
Follow the lead of the Afghan School Project funding programme in Canada, NComputing in the US and UK, and telecoms firm Roshan in Afghanistan, who have agreed to match any funds raised. Show your support by sending a donation.
The shipment of devices will cost $3,300 (1,600) - you can make a donation by visiting the Afghan School Project site. Help spread the word by putting the widget on your own site, blog or profile, or by joining the Facebook group. All money collected goes directly to funding this shipment of devices to the school.
Get the ITPro. daily newsletter
Receive our latest news, industry updates, featured resources and more. Sign up today to receive our FREE report on AI cyber crime & security - newly updated for 2023.