Russia wants Cyrillic web
Russian government wants to introduce Cyrillic version of the internet.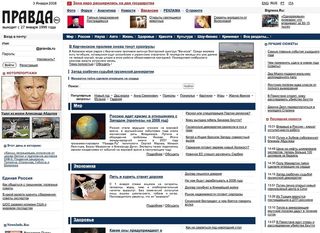 The Russian government wants greater control over the Russian language part of the internet, threatening to create a separate web that operates using Cyrillic rather than Latin, ascii characters.
It is attempting to persuade the Internet Corporation for Assigned Names and Numbers (ICANN), the international body that oversees internet domain names, to grant it a Cyrillic .rf domain in addition to the ascii .ru.
This mirrors a system being tested in China, where Chinese characters are substituted for .com, .net and .cn.
This all seems pretty harmless and for Russian internet users with Cyrillic keyboards, positively beneficial. But experts are concerned that Russia could use control over the new domain to cut citizens off from the wider internet.
Without some kind of "bridge" to connect to the wider web that translates URLs and search queries between acsii and Cyrillic, Russians would be isolated.
Wolfgang Kleinwachter, special adviser to the chairman of the Internet Governance Forum, told The Guardian that the Russian government may implement a password system that provides access to international internet, giving it complete control over access, as well as a record of who is viewing what.
Security experts see the problem in reverse. If Russia closes its internet doors, it will make it easier for cyber criminals to hide in the Cyrillic web. And adding support for another set of characters will only increase confusion, increasing the potential for successful phishing attacks.
The Russian Institute for Public Networks (RIPN), which manages the .ru domain claims reports that a Cyrillic domain could be launched in 2008, regardless of ICANN approval, are false.
RIPN project manager Maria Mokina says that the organisation continues to work with ICANN's Internationalized Domain Names project.
"The tests being done are still going on at the IDN wiki website, nothing more," Mokina said. "No Russian Cyrillic domains are about to be launched."
A daily dose of IT news, reviews, features and insights, straight to your inbox!
A daily dose of IT news, reviews, features and insights, straight to your inbox!
Thank you for signing up to ITPro. You will receive a verification email shortly.
There was a problem. Please refresh the page and try again.