IDF: Intel unveils second generation low-cost laptops
The chipmaker launches a new version of its low cost laptop at IDF, but those looking for atom-powered Classmates will have to wait.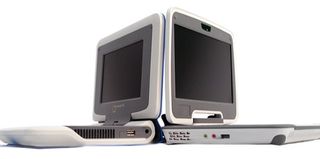 Intel continued its push into low-cost computing as it showcased a new design of its Classmate PC on the second day of the Intel Developer Forum in Shanghai.
The second-generation laptop's main changes are cosmetic, including the availability of nine-inch LCD screens. There is also more storage capacity than the previous version, with a 30GB hard disk drive.
The top end 'netbooks' will have 802.11b/g Wi-Fi and mesh network capabilities. It will also have six-cell battery life, 512 MB memory, an integrated webcam, and support Windows XP.
The laptops do not carry Intel's much hyped Atom processor, which was unveiled on the previous day, but rather Intel Celeron M CPUs. However, Intel did say that future classmate PCs would be built with the Atom.
It confirms Intel's move into the European and US markets, as the extra power and storage will make the budget laptops more attractive to buyers. However, even though Intel was expanding its target market, the millions going online in the emerging world were still the main focus.
"Only five per cent of the world's children today have access to a PC or the internet," said Andrew Chien, Intel's vice president of their Corporate Technology Group and director of Intel Research.
"Education is one of the best examples of how technology improves our lives. We have seen how technology helps teachers create fun learning experiences more efficiently," he said.
"The Intel-powered classmate PC is one of the ways we support the IT industry in spreading the benefits of technology in education for children around the world."
Intel has been competing furiously with the One Laptop per Child (OLPC) project, with IT PRO reporting in January about Intel withdrawing its support for Nicholas Negroponte's project.
A daily dose of IT news, reviews, features and insights, straight to your inbox!
A daily dose of IT news, reviews, features and insights, straight to your inbox!
Thank you for signing up to ITPro. You will receive a verification email shortly.
There was a problem. Please refresh the page and try again.