When start-ups go public
Zach Nelson, the chief executive of NetSuite, chats about the changes the SaaS provider experienced after going public.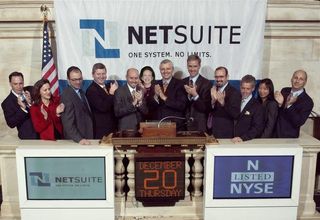 Picture the perfect business success story - you are involved in building a business from scratch to the point that you float it for a fortune, in the process making you, your original backers and many of the staff that took a chance by joining you along the way, very wealthy indeed.
Thankfully it is not a dream, but a reality that has been achieved by countless companies, with the technology sector boasting to more successful initial public offerings (IPOs) in the last 20 years than any other sector.
The technology sector has also demonstrated consistently that small businesses can grow rapidly and make the necessary corporate and cultural changes needed to function as a public company, and cope with the additional financial and operational scrutiny that a listed company faces from both investors and the authorities.
So what does it take to successfully build up and transition a technology business into an enterprise that can successfully float and gain the support and backing of both institutional shareholders and small shareholders alike?
As an example of a successful technology company that grew from a small start-up into a high value public company, we took a look at NetSuite, the software-as-a-service company founded in 1998, and which completed its floatation just before Christmas 2007. The floatation valued the business at around $1.6 billion (800 million), much higher than the company had originally expected.
We spoke to Zach Nelson, chief executive of the company since 2002 about how things have changed at the business since it went public, and about what he and his colleagues have learned about how to successfully scale a business up from start-up status to a multi-billion organisation.
Retaining the small business culture
"As a business, we spent some time grappling with the changes that needed to be made to our working practices before the IPO," said Nelson.
One of the biggest challenges facing a small company that grows is retaining the culture of a small business. In many cases this culture is based on the college campus environment, considered by many in the technology industry to be the most conducive environment to encourage free-thinking, innovation and the efficient exchange of ideas. NetSuite didn't have the college campus approach of a Google or a Microsoft (two companies that have worked hard to retain their small business ethos despite employing tens of thousands of people each), but still wanted and needed to retain the 'can-do' attitude it had at launch, despite the regulatory restrictions and corporate best practice expectations that come with being a public company.
"Historically we were a very transparent company, particularly to our employees. Everyone had access to the financial dashboard at their desktops. This has now been locked down as all our staff are shareholders now, and regulations prohibit us giving preferential information to one group of shareholders and not to all the others," Nelson continued.
"These measures have also made my presentations shorter," added Nelson. As someone who has attended many of Nelson's press conferences and user presentations, I can confirm that this is now the case. As a private company, Nelson would not hesitate to demonstrate his personal company dashboard as a working example of the NetSuite application suite in action, or to show the display of his iPhone, which can also display the NetSuite software and data. In order to comply with SEC regulations, this is now a thing of the past, with Nelson having to steer clear of many of the financial facts and figures that he would once happily share with the media, customers and staff alike. Such figures must now be saved for the appropriate quarterly, half-year or annual results filings and presentations when they can be presented to the market and investors at once.
"The world has changed a lot for me personally, and my role in the company has evolved."
"Before the IPO, my life was much easier," Nelson said, tongue-in-cheek, but with a touch of truth. "Now I have a day job as chief executive as well as the dual role of communicating with investors."
A daily dose of IT news, reviews, features and insights, straight to your inbox!
A daily dose of IT news, reviews, features and insights, straight to your inbox!
Thank you for signing up to ITPro. You will receive a verification email shortly.
There was a problem. Please refresh the page and try again.