The year in IT news
Google, Microsoft and the economy: all the top stories from the past year in tech and business news.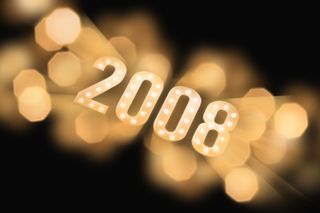 IT, tech and business are three areas that are ever changing. New deals, new gadgets and new buzz words are constantly popping up, keeping the industry as fresh as it is confusing.
This year was no different. Indeed, 2008 was coloured by a variety of big stories, many of which evolved into sagas worthy of the soaps the Microsoft-Yahoo deal debacle started in February and is still rolling along fuelled by rumour.
There were some surprises, too. A Google browser has long been suspected, but few saw Chrome coming. Same goes for search engine firm Cuil it's no surprise it failed to topple Google, but we all got pretty excited when it tried.
Netbooks, cloud computing and mobile computing all took off the latter helped by some very shiny new handsets, including Apple's iPhone 3G and the first Google Android phone, the T-Mobile G1.
Other excitement came in the form of the computing grid which is backing up the Large Hadron Collider at CERN in Geneva, as well as the UK's eventual move to fibre broadband.
It wasn't all fun, however. The economy slowly dissolved, and while the sector remains relatively strong, thousands of jobs were cut. And some scary malware and DNS flaws kept security professionals on their toes.
Here's our month-by-month recap of the year that was
January
One year makes a difference. While the economy is the big issue on most people's minds right now, IT pros were confident at the beginning of last year and with good reason. A staffing survey showed demand for IT workers was at a six year high, with salary climbing steadily. Fond memories
As always, January saw the Consumer Electronics Show in Las Vegas, where Bluetooth celebrated its tenth birthday and a lot of shiny new tech was revealed. In other show news, at education and tech fair BETT, the government's teaching tech body Becta continued its anti-Microsoft crusade, warning schools against using Vista because of operability and cost concerns.
The end of January also marked the first anniversary of Microsoft's beleaguered operating system Vista. Despite it having passed 100 million licences by that point, Microsoft's people were still in defensive mode, as they largely are today. Guess some things don't change.
Bill Gates was also kicking off his farewell tour, stopping by the UK for his last ever public speech as Microsoft's leader; he took the opportunity to claim that businesses aren't forced to use Microsoft's products keep that in mind next time you've got an upgrade to do.
The UK's biggest hosting provider FastHosts saw a massive security problem, compromising many small business sites.
The biggest gadget news of the month was the arrival of Apple's MacBook Air the shiny, super-thin laptop which the iPhone-maker said is the thinnest in the world.
February
It may be hard to believe that the saga kicked off so long ago, because it's run and run as a story this year. But it was the beginning of February when Microsoft first made its since-failed $44 billion bid for Yahoo. All those analysts which criticised it should feel good about themselves, then.
Every year, February marks the hellish experience that is Mobile World Congress. Tens of thousands descend on Barcelona for the massive mobile show, and this year the big story was Google's Android phone mockups abounded.
Microsoft was hit with another massive fine from the European Union, this one regarding server product interoperability, just as the software maker launches Windows Server 2008.
Vanco marked its 20th anniversary with acquisition talk which hindsight will show wasn't entirely accurate.
Keeping with the previous month's confidence, IT pros stay strong in the face of recession rumours, according to a survey.
Get the ITPro. daily newsletter
Receive our latest news, industry updates, featured resources and more. Sign up today to receive our FREE report on AI cyber crime & security - newly updated for 2023.
Get the ITPro. daily newsletter
Receive our latest news, industry updates, featured resources and more. Sign up today to receive our FREE report on AI cyber crime & security - newly updated for 2023.
Thank you for signing up to ITPro.. You will receive a verification email shortly.
There was a problem. Please refresh the page and try again.