Google apologises after blacklisting entire internet
A typo lead to Google's malware blacklist being applied to every site returned in its search results for an hour today.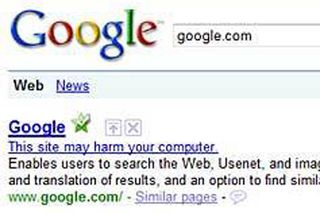 A simple human error was enough to lead Google to blacklist every search result it came up with for an hour today, giving users the message "this site may harm your computer" for every link it supplied.
Between 6:30 am and 7:25 am PST, any search result returned by Google was labelled as having malware. Clicking the marked links lead to a warning page, which advised users not to continue on to the intended page as it wasn't safe.
The problem started after Google made an error updating its blacklisting system.
"What happened? Very simply, human error. Google flags search results with the message 'This site may harm your computer' if the site is known to install malicious software in the background or otherwise surreptitiously," wrote Marissa Mayer, vice president of Search Products and User Experience, in the Google blog.
"We periodically update that list and released one such update to the site this morning. Unfortunately (and here's the human error), the URL of '/' was mistakenly checked in as a value to the file and '/' expands to all URLs," Mayer explained.
Google said the problem was quickly fixed, with no users facing any more than 40 minutes of trouble. It is currently up and working as normal.
Promising that Google would investigate the incident and put better checks in place, Mayer apologised to users "who were inconvenienced this morning, and to site owners whose pages were incorrectly labelled."
A daily dose of IT news, reviews, features and insights, straight to your inbox!
A daily dose of IT news, reviews, features and insights, straight to your inbox!
Thank you for signing up to ITPro. You will receive a verification email shortly.
There was a problem. Please refresh the page and try again.