Public to have final say on Street View tourist attractions
Voting opens today to see which attractions should get first visits from new Google Street View trikes.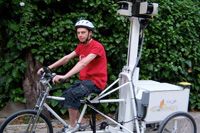 Google has today opened up the voting process so that Britons can have their final say about which popular tourist attractions should be the the first visited by its new image-capturing Street View trikes.
Last month, the search giant teamed up with VisitBritain to find out what tourist points of interest people most wanted to be able to explore using Street View. Google has now whittled down the 10,000-plus suggestions it received into five categories within which users can now vote for their ultimate favourite.
The categories are: castles, coastal paths, natural wonders, historic buildings and monuments and (sports) stadiums. Finalists up for the vote include the Angel of the North, the Eden Project, Loch Ness and Stonehenge.
"People have really been caught up in the potential of the Street View Trike with thousands nominating the locations they'd like to see captured on camera. They've suggested familiar and unfamiliar attractions from Scotland to Land's End, the east coast to the west and everywhere in between," said Justin Reid, head of online marketing for, VisitBritain, in statement.
"With some five million extra Brits considering taking a holiday in their own country this year, Google's Street View is already helping us inspire them with some great urban destinations. The Street View Trike will help us inspire visitors with a small taste of what they can discover off the beaten track."
A Google spokesperson added in a statement: "We've been thrilled with the suggestions made by the British public and are excited to see where our tricyclist will visit first. Whatever takes your fancy, from the modern to the historic, the natural to the man-made, we hope the public will get voting to put their tourist gems on the map."
Subject to good weather, the Google Trike will visit the winning locations this summer.
Google Street View has not been without its controversy since it launched, but the company this week pledged to introduce new privacy safeguards to appease worried citizens.
A daily dose of IT news, reviews, features and insights, straight to your inbox!
Maggie has been a journalist since 1999. She started her career as an editorial assistant on then-weekly magazine Computing, before working her way up to senior reporter level. After several years on the magazine, she moved to 'the other side of the fence' to work as a copywriter for a marketing agency, writing case studies and working on ad and website copy for companies such as eBay, Dell, Microsoft and more. In 2006, just weeks before IT Pro was launched, Maggie joined Dennis Publishing as a reporter. Having worked her way up to editor of IT Pro, she was appointed group editor of Cloud Pro and IT Pro in April 2012. She became the editorial director and took responsibility for Channel Pro, in 2016. Her areas of particular interest, aside from cloud, include management and C-level issues, the business value of technology, green and environmental issues and careers to name but a few.
A daily dose of IT news, reviews, features and insights, straight to your inbox!
Thank you for signing up to ITPro. You will receive a verification email shortly.
There was a problem. Please refresh the page and try again.