Citrix bets on consumerisation of IT
The internet, netbook and smartphone are making the user experience a key strategic driver in delivering modern IT infrastructures according to Citrix.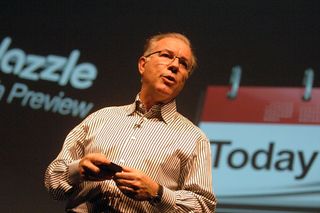 The consumerisation of IT was a key theme at the opening keynote of application infrastructure delivery vendor, Citrix today.
Mark Templeton, Citrix chief executive said the explosion in popularity of consumer client devices and web-based applications, such as Facebook and Twitter, has made the average enterprise IT user much harder to please.
"A new era has already started to replace the distributed client-server computing environment," he said in his keynote addressing delegates at the company's annual UK end user conference.
"The web-based environment many people experience at work is very different to what they get at home as consumers for instance. In fact, it far surpasses anything they see in the average enterprise environment."
As a result, Templeton predicted that enterprise IT infrastructures would have to facilitate an era of "on-demand services," where IT delivery can be location, device and network agnostic.
He positioned Citrix's vision of this new era as one that would be similar to the TV service provider model: "You choose what channel and programme you want to watch on demand, based on the subscription provisioned for you centrally by the provider."
Key to delivering on this vision would be the decoupling of the client from the operating system (OS), applications, network and server infrastructure, which he said had begun to happen with the advent of server and desktop virtualisation.
"It's all about getting to a self-service model for the user that allows IT to be a responsible facilitator of change through a flexible infrastructure," Templeton added.
"It's also about changing the economies of the IT infrastructure," he continued, explaining that, here, cloud computing and the rationalisation of data centre environments would be key to keeping the cost of self-service down.
Meanwhile, the ongoing simplification of IT infrastructures through consolidation, self-service, auto-provisioning and dynamic management would also help IT to build applications once and deploy them as a service, anywhere and to any device.
Rene Millman, Gartner senior research analyst said Citrix had evolved a big vision out of its traditional position as a pragmatic technology provider. He told IT PRO: "The nice thing about this vision is the ability to wrap up applications and services virtually without too much pain for the IT department."
A daily dose of IT news, reviews, features and insights, straight to your inbox!
A daily dose of IT news, reviews, features and insights, straight to your inbox!
Thank you for signing up to ITPro. You will receive a verification email shortly.
There was a problem. Please refresh the page and try again.