Greenpeace slams Dell, HP and Lenovo over chemicals
Mobile firms come out on top of Greenpeace's green gadget ranking, with some praise going to Apple, too.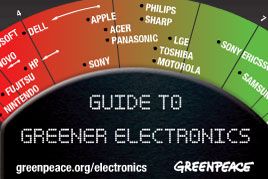 Greenpeace has slammed Dell, HP and Lenovo for their continued use of toxic plastics in manufacturing computers.
The threesome all dropped in Greenpeace's Greener Electronics rating, largely because their products contain PVC and BFRs. The former is one of the most harmful plastics out there, the green group said, and releases a carcinogenic when burned. BFRs don't degrade and build-up in people's bodies, it noted.
While Dell, HP and Lenovo sat at the bottom of the ranking - alongside Nintendo, Fujitsu, and Microsoft - Apple was near the middle. Greenpeace praised the MacBook maker for for its efforts to improve, saying it was "leading its competitors on toxins phase out."
"All PC companies should be concentrating on matching or beating Apple's lead on this important issue," Greenpeace wrote on its site, calling for all manufacturers to remove BFRs and PVC from their products.
"It's technically feasible, and consumers want it too, but above all the electronics industry needs to clean up urgently as a matter of principle. Their e-waste is poisoning the poor," the group added.
Lenovo has yet to return request for comment, but HP said that it was taking steps to improve its green standing. A spokesperson said cutting its use of BFRs and PVC to zero "as quickly as possible" was a top priority for HP.
"Given the size and scale of HP's supply chain we are working to identify suitable alternatives that enable us to balance product safety and assure supply," the spokesperson added. "HP has introduced several new computing products this year that use less BFR/PVC than previous generations, and are committed to put out products that are BFR/PVC free this year."
A Dell spokesperson said that the firm "shares Greenpeace's commitment to producing technology that makes the least possible impact on our planet." The spokesperson claimed Dell offered free computer recycling, received 27 per cent of its global power from green sources, and had carbon neutral operations, with plans to reduce emissiones across the firm by 40 per cent by 2015.
Mobile firms lead the way
The three best-ranked firms were all from the mobile phone sector, with Nokia leading, followed by Samsung and Sony Ericsson.
Nokia held the first place ranking with a score of 7.5 out of ten, and was praised for it's wide-reaching take-back programme. Samsung gained points to 7.1 because of its promise to cut emissions, while Sony Ericsson held third with at 6.5 on its improved efficiency reporting. See below for the full list.
Read more to find out if mobile firms can get any greener.
The Greenpeace Greener Electronics Ranking (scores out of ten):
Nokia (7.45)
Samsung (7.1)
Sony Ericsson (6.5)
LG (5.7)
Toshiba (5.5)
Motorola (5.5)
Phillips (5.3)
Sharp (5.3)
Acer (4.9)
Panasonic (4.9)
Apple (4.7)
Sony (4.5)
Dell (3.9)
HP (3.5)
Microsoft (2.5)
Lenovo (2.5)
Fujitsu (2.4)
Nintendo (1.0)
A daily dose of IT news, reviews, features and insights, straight to your inbox!
A daily dose of IT news, reviews, features and insights, straight to your inbox!
Thank you for signing up to ITPro. You will receive a verification email shortly.
There was a problem. Please refresh the page and try again.