T-Mobile's G2 Touch now available in UK
The mobile giant's take on the HTC Hero will also be available in stores over the next few days, according to T-Mobile.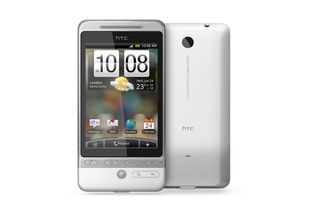 Android fans on T-Mobile's network can now get their hands on the mobile operator's take on the recently launched HTC Hero handset.
The G2 Touch is available online from today and will go on sale in shops over the next few days, according to T-Mobile's official Twitter feed.
The handset is already available in graphite' on the Orange network, but under its original moniker.
At the time of publication, the handset and details of tariffs had not appeared on T-Mobile's website. However, when the handset was announced and initially dubbed the G1 Touch back in June, T-Mobile claimed that it would be available for free on its 40 Flext tariff.
"We were proud to be the first network in the world to launch an Android mobile and as our first device was such a hit, with 90 per cent of owners saying they've recommended it to their friends, we're excited to be extending our Android range," Richard Warmsley, T-Mobile's head of internet and entertainment services, said in a statement at the time.
He added: "As the fastest-growing open apps platform, Android promises the kind of innovation scale that only comes from being available across a range of phones all over the worldWith two strong contenders to choose from, we expect that one in five T-Mobile mobile internet users will have Android-powered devices by the end of the year."
A daily dose of IT news, reviews, features and insights, straight to your inbox!
Maggie has been a journalist since 1999. She started her career as an editorial assistant on then-weekly magazine Computing, before working her way up to senior reporter level. After several years on the magazine, she moved to 'the other side of the fence' to work as a copywriter for a marketing agency, writing case studies and working on ad and website copy for companies such as eBay, Dell, Microsoft and more. In 2006, just weeks before IT Pro was launched, Maggie joined Dennis Publishing as a reporter. Having worked her way up to editor of IT Pro, she was appointed group editor of Cloud Pro and IT Pro in April 2012. She became the editorial director and took responsibility for Channel Pro, in 2016. Her areas of particular interest, aside from cloud, include management and C-level issues, the business value of technology, green and environmental issues and careers to name but a few.
A daily dose of IT news, reviews, features and insights, straight to your inbox!
Thank you for signing up to ITPro. You will receive a verification email shortly.
There was a problem. Please refresh the page and try again.