Reviews Round-Up: Acer smartphone woe
Widescreen DisplayLink monitors, quality colour laser printing and efficient virtualisation management tools rock our world this week, while Acer and Buffalo get things horribly wrong.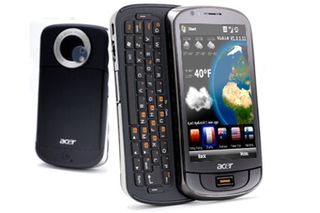 Is doesn't happen too often but we've got a couple of right duffers on review this week. Buffalo and Acer- you stand accused! At the other end of the scale, we've also got a couple of award winners from Lexmark and 2x.
Samsung SyncMaster LD220 monitor review
DisplayLink monitors are a great way of extending your desktop screen real estate, even if you don't have any spare video ports, and now you can get them in widescreen as showcased handsomely by this Samsung. We like.
Buffalo LinkStation Mini SSD - NAS review
We have to admit it this Buffalo gets a right kicking from our reviewer and that's for jumping on the SSD bandwagon. It's not that it doesn't do the job, it's just that there's absolutely no reason for it to exist. Standard hard disk based NAS boxes are almost as quiet, just as fast and much, much cheaper.
Lexmark C736dn - colour laser printer review
Fast, high quality and a cost effective colour laser printing is still something of a holy grail, and this Lexmark makes a good attempt at achieving that ideal. An award-winning product.
2X VirtualDesktopServer 7.1 review
Virtualisation is one of those technologies that is only as good as the ability to manage it. Otherwise you could end up wiping out most of the potential benefits. 2X's VirtualDesktopServer 7.1 impressed Dave Mitchell with its elegance and effectiveness. If you're managing virtual machines this is a product you need to consider.
Is this an iPhone killer? Answer - no, not by a rather lengthy piece of chalk. Slapping Windows Mobile and a keyboard behind a screen does not a happy smartphone make. Acer needs to go back to the drawing board on this one, with the Acer M900 leaving our reviewer "almost sobbing". And these were not tears of joy.
A daily dose of IT news, reviews, features and insights, straight to your inbox!
A daily dose of IT news, reviews, features and insights, straight to your inbox!
Thank you for signing up to ITPro. You will receive a verification email shortly.
There was a problem. Please refresh the page and try again.