Femtocells and the end of notspots
With ever increasing smartphone traffic and the irritation of patchy 3G network coverage, Petra Jones examines how femtocell technology may mean the end of notspots.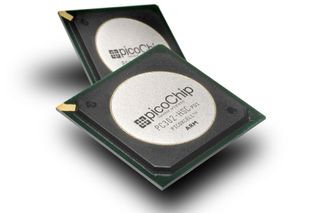 Poor mobile phone reception is a constant irritation for business people working both in and out-of-office. Known as notspots', these are areas with little or no coverage.
However, the annoyance of crucial call signals breaking up or difficult conference calls with colleagues on mobiles could soon be at an end thanks to a new device called a femtocell which allows phone users to boost their signal using their ethernet connection.
With devices unveiled at the Consumer Electronics Show in Las Vegas, this new technology is being pioneered by British company picoChip.
In simple terms, femtocells are mobile phone base stations which make use of specialist microchips to boost a mobile phone signal by piggybacking on a user's broadband connection. The devices also route mobile phone calls wirelessly.
Semiconductor and femtocell pioneer picoChip, based in Bath, was the first company to launch a femtocell modem and create many of the microchip processors which lie at the heart of femtocell devices. Much as Intel sells chips to PC makers, picoChip sell its chips to the companies who make femtocell products such as Alcatel-Lucent, ip.Access, Ubiquisys or Sagem.
There are three types of femtocells that will be available this year. Class 1 femtocell devices are aimed at private and small business users, with four to eight users. These book-sized black boxes work simply by being plugged into the ethernet and a mains power source, rather like a wi-fi device, to amplify reception within a 50-yard radius.
The end of notspots?
Class 2 femtocells are aimed at large organisations and even hotels much like enterprise wi-fi, they offer PBX (private branch exchange) integration to provide all the telephone features modern businesses need from call forwarding to conference calls.
"The idea of the enterprise femtocell is if you're in a company, you can get rid of the fixed lines phone you use today or the cordless phones that some people have and just use your mobile phone," Rupert Baines, head of marketing picoChip's, explains.
"You'll still be able to forward calls really easily, do conference calls and all the features you expect in a company phone network but your mobile phone reception would become really, really good so you get five bars coverage, crystal clear voice, and streaming fast data."
Femtocells also have the advantage of working with existing mobile phones with no need to upgrade handsets.
Finally, class 3 metro and rural femtocells will shortly be available which can be used be deployed by network carriers as part of their network like any other base station. These are the femtocells which are likely to banish notspots' or areas of poor 3G coverage yet they remain invisible to the business user.
As Baines notes: "If you're waiting at Paddington Station and you used BT Cloud Wi-Fi, you don't know where that box is, you're just using their service and it's the same with this kind of femtocell. All you will know is that you're walking down a street and your 3G phone works better."
Volume woes
The head of O2 phone network, Ronan Dunne recently told the Financial Times he was disappointed with O2's network performance in London which had become overwhelmed by bandwidth-hungry smartphones.
While these problems seem to have been confined to London, they may be a sign of the challenges ahead for wireless carriers. Wireless research company Unwired Insight predicts a 20 per cent increase in wireless traffic volumes over the next five years so femtocell technology may be needed now more than ever to alleviate the strain on many 3G networks attempting to cope with increased traffic from smartphones.
Ethernet electricity
In an age where most company PCs are usually connected to a tangle of cables, anything which reduces the need for them has to be good. In the future, Femtocells are likely to be powered through the ethernet as well as getting their broadband connection through it.
Baines reveals: "Increasingly the electricity as well as the broadband is going down the Ethernet wire like it does over USB so you'll be able to plug your femtocell into your router and that's the only wire you need."
Here already
Rather than an invention of the future, femtocells are already commercially available. Vodafone was the first to launch commercial femtocells last summer with its Vodafone Access Gateway available for 120 without contract or free with a monthly price plan from 25 or more.
While this is the first femtocell network to become available in Europe, with other carriers like Telefonica/O2 working on their own trials it's sure to be the first of many.
Over in the States and Canada, VoIP device retailer MagicJack, recently began marketing an inexpensive USB femtocell device that will allow GSM mobile phones to make calls via its internet-based telephone service (VoIP). This flash drive-sized device plugs into a PC's USB port with a domestic phone line inserted into the rear of the device.
Many commentators - including the Wall Street Journal - are predicting that femtocells or femtos' are likely to become a household word this year.
Mobile technology company Airvana has already announced a new 3G HubBub UMTS High-Capacity femtocell designed to improve in-building mobile network coverage for businesses which supports up to 16 simultaneous users making voice calls with a range of up to 600m.
While still vague on the precise release date - "sometime in 2010" - with such releases it's clear 2010 is likely to be the year of the femtocell as manufacturers and mobile phone carriers scramble to make use of the technology.
Get the ITPro. daily newsletter
Receive our latest news, industry updates, featured resources and more. Sign up today to receive our FREE report on AI cyber crime & security - newly updated for 2023.