Live blog: MPs debate Digital Economy Bill
MPs are set to take a final quick look at the controversial bill this afternoon - here is the news as it happens.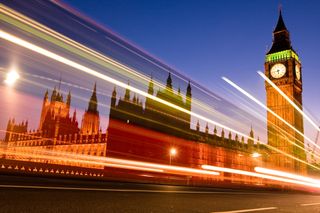 The ever controversial Digital Economy Bill is set for its second reading today as MPs give it another quick look before approving it in the "wash-up" phase, now the election has been called.
We are ready and waiting for the debate to start and will be bringing you the arguments as they are spoken in the house.
Read on for more about the Digital Economy Bill, and why campaigners want it to be properly debated.
19:12: Unfortunately we are going to have to call it a night for this debate on IT PRO, for tonight at least anyway.
If you want to watch the rest of tonight's debate go to the Parliament website.
The final (mini) committee stage and vote will take place tomorrow during the wash-up phase and we will keep you updated on how it goes.
Thanks for reading!
19:06: Now people are wishing Simon well for his retirement... Can we get back to the debate kids?
18:57: "It's not all about big corporate fats cats... these measures are supported by all the unions [as well]," added Simon.
18:54: Slightly patronising Star Wars analogy naming Peter Mandelson as Darth Vader, the file sharer as Luke Skywalker and Steven Speilberg playing the Emperor. Hmmm...
18:52: Sion Simon, Labour MP for Birmingham Erdington, was the Parliamentary Under-Secretary of State for Creative Industries. He is now stepping down to try and become Mayor of Birmingham but first he will have his say on the Bill he was a part of.
18:51: Tom Watson, Labour MP for West Bromwich East, said that we will not stop sharing and this is what the internet is about. He also claimed that Luff "should be proud" that young people are using images in a political way.
However Luff have an angry response calling it shameful.
18:45: Misunderstanding of how to deal with filesharing on internet connections with more than one computer using the network and IP address could mean "the end of public wi-fi," said Luff. Ok, slow down! Don't threaten me tweeting from the pub!
18:43: Provisions of the bill have been "misunderstood by campaigners," according to Luff who believes the measures to cut off and throttle connections are not as "draconian" as people think.
18:40: Luff claims Labour members of his committee thought the broadband tax was "regressive."
18:36: Luff thinks it is the worst process he has gone through to pass a bill, calling it a "scandal."
However he has said that if there was a division he would support the bill but "under duress and under protest" as "he hates and loathes the process" it has gone through.
18:33 Peter Luff, the chair of the business, innovation and skills committee takes his 15 minutes of fame and starts by agreeing with Mitchell that it is a "rag bag" of clauses.
18:32: Good Twitter reaction to Mitchell's speech, giving the nerds a voice!
18:29: Mitchell becomes the latest MP to say the digital switchover to DAB is too soon and won't be doable until there are decent designs for cars.
18:24: Mitchell admits he doesn't know the full extent of the bill and he can't, nor can the rest of the house, focus on helping constituents to understand when they are mid-campaign mode.
"What would a delay or three months... do? There is no danger in it."
18:21 Just had a quick count of MPs in the room. I think it is about 15. Sigh.
18:20 Mitchell also talks about all the emails from "young people who feel threatened by the bill and thinks its wrong."
Needs more time to be explained as it is just viewed as too favourable to the big guy corporations, not the little guy.
Nice to know someone has been reading all their emails and understand how younger voters feel!
18:18: Austin Mitchell, Labour MP for Great Grimsby, adds to the voices of saying it should be delayed to go through a proper debate.
18:17: Lots of MPs blaming problems with clauses on the fact they haven't had enough time to debate them and ammend them.
18:10: The measures (to cut off filesharers) can be got around with the use of a simple proxy server, said Whittingdale, however he agrees that a stand should be made and hopefully a letter will put someone off enough.
18:09: Whittingdale said there will be real problems in piracy as internet speed increases but he also said there wasnt enough provision for public wi-fi.
"It cannot be right that you cut off the whole of Starbucks because one person went in for a cup of coffee and illegally fileshared."
18:05 "No reason why we are having to have the second reading of this bill the day the election is called," said John Whittingdale, chair of the Culture, Media and Sport Committee.
18:03 Obviously MPs are concerned about rush hour, hardly any MPs left in the house now. Very disappointing...
18:01 Wyatt thinks there needs to be a whole brand new intellectual property act. ambitious when there isn't enough time to debate this now! He might have to wait for a bit...
18:00 "I was opposed to the idea of having legislation against filesharing... but have been persudaded that there should be some trial," added Wyatt.
17:57: Wyatt says the issues should be debated with experts in the internet, not just the non-techy MPs in the house.
17:55: Derek Wyatt, Labour MP for Sittingbourne and Sheppey, says we need to be far more ambitious than 2Mbps for everyone in the UK.
17:53: Reminder of the 12 minute rule however as so many people have left the Deputy Speaker says they can now speak for 15 minutes. Looks like they are getting more time than they thought!
17:46: Foster tries to shift blame onto Labour for clause 18 due to its update, but it was the Lib Dems who first tabled it in the House of Lords and got it accepted.
17:42: The bill will have Liberal Democrat support if they extend the time for OfCom to write up regulations, parliament is given maixmum time to scrutinise clause 11 - cutting off ilegal filesharers - after the election and an exclusion of networks set up by universities, schools and libraries.
17:40: "Henry the 8th clause (17) was a step too far," claimed Foster, "but that is not to say something should not be done... to address the problem created by illegal peer to peer fileshring, responsible for about two thirds of illegal activity taking place."
17:37: David Cairns, Labour MP, and Foster gang up on the Tory plans for the BBC licence fee and its regular changing stance, in this case "top slicing" it to pay for broadband rollout.
17:34: "The Government has done a diservice by failing to promote the real benefits of digital radio," added Foster.
17:29: He does believe large chunks of the bill are important and should go through, hoping they will find a way. However if Foster is honest it is going to take a lot of clause dropping from him to vote yes.
17:27: Don Foster begins his speech saying: "It is totally innappropriate for a bill so important as this to be given so little time to be debated in this house."
17:25: "An enormous amount if internet activity is baded on trust," said Micael. However he "plead for a light touch from this Government... to achieve the necessary protections without slowly down the speed of [advancement]."
17:18 Alun Michael, Labour MP for Cardiff South and Penarth, said the internet is now important to all of us, whether we are techies or not, and we need standards of behaviour underpinned by legislation.
However he said we shouldn't rely too heavily on legislation and it must be flexible with the speedy nature of the internet.
17:16: "We wanted an iPod, we got an Amstrad," concluded Hunt. Now time for the backbenchers to get in on the act (with a 12 minute time limit each on their comments... thanks deputy speaker!).
17:15 Ah the debate goes off on a tangent as Hunt pouts across his party's tax cutting campaign rhetoric with a loose link to the creative industries. Back on track now please shadow secretary!
17:14: "What should this bill have contained?" asked Hunt.
"It should have asked one simple question, what needs to be done to stimulate investment in this [industry]."
17:11: Hunt takes his turn to dig at Don Foster for the Lib Dems u-turn on copyright infringment clauses.
17:12: Robert Key calls the 2015 deadline to switch everyone over from FM to Digital Radio impossible.
17:05: Hunt concludes by calling the bill "an oppotunity wasted" to reform copyright law.
17:03: Hunt also calls the moves for local media in the bill "totally flawed," with Government subsidies solidfying the "old failing models" rather than trying to find new models to attract viewers.
17:01: Conservatives are against the extra responsibilties put onto Ofcom.
17:00: Hunt believes ISPs cannot wash their hands of responsibility for illegal activity on their internet connections but it should still mostly lie with the rights holders to persue this.
16:59 Brian Binley, Conservative MP for Northampton south, claims 200 million a year is lost in the music industry due to illegal downloading.
16:57: Conservatives reserve the right to review any legislation that goes through if they get in power on 6 May says Hunt... so if anything goes through they can just turn round and try to change it again? This could go on for a very long time regardless of the next few days.
16:55: Hunt said: "Why is it that debate on such a critically important bill been left until the last minute? These issues have been in the public [sphere] for years."
16:52:The bill could have been massively improved if it had been given proper scrutiny at the committee stage, says Hunt.
James Arthbuthnot, Conservative MP, also claims the Government left it this late in the parliamentary cycle to propose the bill to help it go through in the wash-up stage.
16:50: Hunt claims the broadband tax would put off 200,000 people from getting phonelines, let alone broadband itself. Do people really feel that strongly about 50p?
16:49: Peter Luff, chair of the business, innovationm and skills committee, says the Government has not just ducked other elements of the bill as outlined by Hunt but "ducked decision on ducts," to open up more avenues for broadband.
16:46: Now it is time for the opposition to speak and Jeremy Hunt, shadow culture secretary, takes the lectern starting with a cutting insult of the bill, calling it "a weak, dithering, incompetent attempt" to dealing with Digital Britain.
16:45: "This bill will ensure Britian's digital economy can build on this success [and] continue to thrive," concluded Bradshaw.
16:43: Brief outline of the improvements to local news, changes to channel four and the move to digital switchover for radio. Everyone seems to be taking a breath during these less controversial measures.
16:42: Bradshaw lays into Lib Dem Foster for initially supporting the "draconian" measure of clause 17 and now being against clause 18. Awkward laughter from the Lib Dem bench ensues...
16:40: Bradshaw seems to be getting a tad frustrated with the amount of interruptions. It seems everyone wants their say on this bill.
16:39: John robertson, Labour MP, agreed with what was behind the bill but said: "My great fear is we turn children into criminals."
Bradshaw thinks there are enough measures to stop this within the bill but again faced many jeers.
16:37: "Hundreds of millions of pounds is haemorrhaging" because of file-sharing, says Bradshaw.
16:36: Bradshaw claims thar during its passage 700 ammendments were tabled and many were made and he hopes MPs will agree it has arrived in a better shape than it had been in.
16:34: Bradshaw claims it has had more debating time than any other bill, but he recieves many jeers to the contrary.
16:32: Tom Watson, Labour MP for West Bromwich East, claims over 20,000 emails have been sent to MPs from concerned constituents who don't want this bill to go through. However Bradshaw says the rights holders and unions for performers have equal concerns if it doesn't.
16:30: "It is not ideal that this bill is not likely to enjoy full debate," continues Bradshaw, "but at the end of the parliament there are always bills to which this applies."
Yes the is Ben, but this is a pretty controversial bill to shove through...
16:28: Ben Bradshaw, Culture, Media and Sports Secretary, starts the bill reading. He accepts the timing of the reading is "unusual" but says the substance to "protect and build on" the creative industries in the UK is very important.
16:20: Bit of a break now whilst Nadine Dorries, Conservative MP, puts forward her Ten Minute Rule Bill on waste recovery facilities.
16:18: Don Foster steps up for the Lib Dems asking Harman to confirm what she meant by "consensus" when she said that is the only way the bill should go through a few weeks ago.
She dodged the questioned saying it should be left to the secretary of state to answer when he shortly presents the bill.
16:16: MPs are rushing to get Harman's attention as time runs out on other issues that they want to put to her. Back to the bills perhaps?
16:08: Early parts of the debate continue to focus on the fact it is being pushed through in the wash-up phase.
Roger Gale, Conservative MP, says: "Significant parts of the Digital Bill [are] highly contentious... [it] should and could be properly left to the next government. Unless the... contentious parts are dropped, it will not go through."
16:06:Harman responds saying the bill has had "considerable scrutiny already in the house of lords with seven days in committee... but I know that members want it to have scuritny in this house too."
She also confirms the super-affirmative procedure when it comes to regulations for blocking websites.
16:05:David Howarth, Lib Dem from Cambridge, questions Harman over the speed the Digital Economy Bill will be pushed through, saying: "Now that we are in wash up the most appropriate thing... to do is to say the Government will not go forward with those controversial points of the bill and save us the trouble over the next couple of days."
16:01: Sir George Young, Shadow Leader of the House, has just questioned Hariet Harman as to how long will actually be spent on the huge list of bills she just read out. Not long enough, we hear the critics cry.
15:58:Right we are looking almost ready to start. Unfortunately due to the election being announced today there is quite a long list of what MPs need to discuss.
15:45:Thanks to John Bercow, speaker of the house, trying to speed the Indian Ocean fish stock debate up by saying only "pithy questions" should be asked.
15:42: Learning a lot about fish stocks in the Indian Ocean right now whilst waiting for the relevant debate. Time not wasted clearly!
15:35: As ever the House of Parliament is running late and the debate has yet to start. However leader of the Liberal Democrats Nick Clegg has already made his views clear on Twitter, saying: "We oppose parts of [the digital economy bill] as tabled: very anti site-blocking. Will attempt amends in wash-up & oppose 3rd reading if unsuccessful."
A daily dose of IT news, reviews, features and insights, straight to your inbox!
A daily dose of IT news, reviews, features and insights, straight to your inbox!
Thank you for signing up to ITPro. You will receive a verification email shortly.
There was a problem. Please refresh the page and try again.