Currys to sell Apple iPad, Jobs to speak at WWDC
Steve Jobs will be delivering the keynote speech at the Worldwide Developers Conference, while Currys and PC World look set to be selling the iPad in the UK on Friday.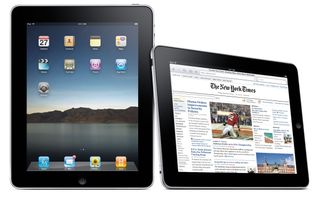 Details of this Friday's UK iPad launch and next week's expected iPhone launch are starting to be revealed.
The Apple iPad is set to finally make its way to the UK on Friday. While it's been available for preorder since earlier this month and will obviously be selling through Apple's 27 UK shops, the Californian firm hasn't made it clear where else Britons will be able to queue for the device.
According to a memo seen by the Times, Apple has cut a deal with DGSi to put the iPad exclusively on the shelves of 139 its Currys and PC World stores, as well as stocking it at the recently opened Best Buy store in Thurrock.
"Demand is expected to be high, mirroring what happened in the US," the Times quoted the memo as saying.
The report suggested DGSi shops will be the only ones with the iPad at launch, with rivals forced to wait 60 days to stock the device.
A DGSi spokeswoman said: "We can confirm that the information in The Times article is correct and Apple will be announcing their distribution plans in the next few days."
Apple's spokeswoman also pointed us to a link with a list of available stores, which do include Currys and PC World.
iPhone news
Meanwhile, Apple has confirmed that chief executive Steve Jobs will be delivering the keynote at the sold-out Worldwide Developers Conference (WWDC), which kicks of on 7 June.
It is widely expected Jobs will use the keynote to unveil the next generation iPhone, which the world had a sneak peek of last month when a prototype device was leaked to tech website Gizmodo.
The 5,000 attendees of the conference are likely in for an entertaining keynote, as Jobs seems to be in a talkative mood.
In a series of short emails, he told one Apple fan that he "won't be disappointed" by WWDC and another that there's "not a chance" Google has leapfrogged his own firm on all things mobile.
Read on for our review of the Apple iPad and the iPhone.
A daily dose of IT news, reviews, features and insights, straight to your inbox!
A daily dose of IT news, reviews, features and insights, straight to your inbox!
Thank you for signing up to ITPro. You will receive a verification email shortly.
There was a problem. Please refresh the page and try again.