Microsoft unveils final version of Windows Phone 7 code
Software giant Microsoft has finished code work on Windows Phone 7, meaning the arrival of devices running the OS isn't that far off.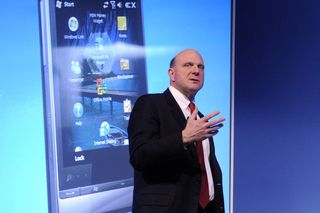 Windows Phone 7 is almost ready to roll as Microsoft has finished work on the code and is poised to send the final version of the mobile operating system (OS) to handset makers.
The OS still needs to be integrated onto devices, but the expected arrival of handsets in October looks likely.
Terry Myerson, corporate vice president of Windows Phone engineering, promised the mobile OS was the "most thoroughly tested mobile platform Microsoft has ever released".
"We had nearly ten thousand devices running automated tests daily, over a half million hours of active self-hosting use, over three and a half million hours of stress test passes, and eight and a half million hours of fully automated test passes," said Myerson on the Windows blog.
"We've had thousands of independent software vendors and early adopters testing our software and giving us great feedback," he added.
Microsoft has certainly had lots of time to perfect Windows Phone 7. It released Windows Mobile 6 in 2007, following it up with the stopgap version 6.5 last year, letting rivals Google and Apple leapfrog
Microsoft in the mobile space.
Recent stats from Neilsen Online showed Windows Mobile phones held 11 per cent of the US market, compared to 27 per cent for Android and 23 per cent for Apple.
Myerson said Microsoft was "just getting started," claiming Windows Phone 7 "sets us up for success over the long term in the mobile space we're really just getting started".
A daily dose of IT news, reviews, features and insights, straight to your inbox!
A daily dose of IT news, reviews, features and insights, straight to your inbox!
Thank you for signing up to ITPro. You will receive a verification email shortly.
There was a problem. Please refresh the page and try again.