Royal Mail releases first "intelligent" stamps
Trainspotters and gadget nerds of the world united.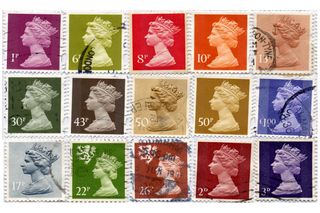 The world's first intelligent stamps have been released by the Royal Mail.
When they are viewed by a smartphone, an image recognition app will launch an online information site.
The six British railways special-issue stamps trace the history of steam trains to mark the 50th anniversary of British Rail's last steam train, the 9F Class "Evening Star".
It is not so much the stamp that is intelligent. There is no microdot or RFID chip involved. The intelligence lies in the Junaio software that can be downloaded from iTunes for the iPhone or for Android phones from the Android Market.
When the software is set up, pointing the phone's camera at the stamp will trigger the image recognition software. This launches a video of comedic actor Bernard Cribbins reading W H Auden's poem "The Night Mail".
The poem was written for an eponymous documentary film released in 1936 about the London to Glasgow mail train. Cribbins was chosen because of his involvement with the 1970 remake of the classic British movie "The Railway Children". In the movie he played the amiable station porter, Perks.
"Intelligent stamps mark the next step in the evolution of our stamps, bringing them firmly into the 21st century," said a Royal Mail Stamps spokesperson. "Royal Mail's special stamps [will] mark key events and anniversaries in the UK's heritage, through a programme which aims to be both educational and informative."
The Great British Railways First Day Cover pack containing all the stamps comes complete with a set of postcards showing each stamp image in greater detail. There is also a presentation pack written by
Professor Colin Divall from the National Railway Museum in York.
A daily dose of IT news, reviews, features and insights, straight to your inbox!
A daily dose of IT news, reviews, features and insights, straight to your inbox!
Thank you for signing up to ITPro. You will receive a verification email shortly.
There was a problem. Please refresh the page and try again.