Fifth of uni students admit hacking
Almost a quarter of university and college students have hacked before, research claims.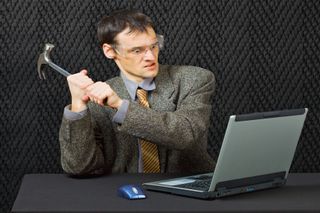 Over a fifth of college and university students in England have hacked into IT systems, indicating the activity is broadly considered not to be wrong.
Youngsters are evidently still hacking in their bedrooms, as 60 per cent of those who admitted to compromising systems did so before they even hit 18.
Over one in three students said they hacked for fun, whilst almost a quarter claimed they were just curious. A further 15 per cent had done it for money, according to the survey from Tufin Technologies, with support from the Association of Chief Police Officers (ACPO).
As for what services the youngsters went for, 37 per cent had hacked Facebook accounts, 26 per cent email accounts and 10 per cent online shopping accounts
"It's imperative that we begin to educate this generation about the good, the bad and the ugly side of the internet and channel these skills appropriately and legally," said Shaul Efraim, vice president of products, marketing and business development at Tufin.
"Looking at these findings, from an IT security perspective, it would be good to see these talented individuals pursue a career in the security sector to ensure all organisations benefit from their obvious ability to strengthen security systems and stop the data breaches that litter the news sites today, and preventing hackers in the future - whether they're seven or 70."
The research also showed there was no gender bias in hackers, with just as many girls hitting IT systems as boys.
Of the 1,000 students polled across five London universities and three northern institutions, 46 per cent said they had seen their own computer services hacked.
"What is concerning is the attitude of many of those surveyed felt that hacking (i.e. using someone else's account) was acceptable, or even something to be admired it is not," added ACPO lead on e-crime prevention and president of the Society for the Policing of Cyberspace, Deputy Chief Constable Stuart Hyde.
"Hacking is illegal and we need to ensure everyone understands that."
A daily dose of IT news, reviews, features and insights, straight to your inbox!
A daily dose of IT news, reviews, features and insights, straight to your inbox!
Thank you for signing up to ITPro. You will receive a verification email shortly.
There was a problem. Please refresh the page and try again.