CIO Series: Paul Feldman, Cancer Research UK
We interview Paul Feldman, IS director at Cancer Research UK.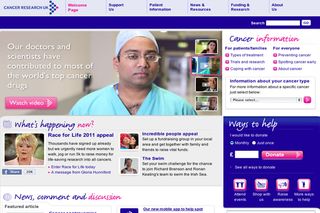 Describe your role in three words.
Beating cancer with IT. (Ed: That's four, but we'll allow it!)
How did you get to where you are today?
Most of my time has been spent in IT over the 30 years I've been working. I was at Nationwide Building, Barclaycard and First Data.
How do we adapt processes and make them appropriate so we take lots of good out of them without overkill or bureaucracy? We shouldn't be employing people just to manage processes.
I actually had some business roles there. At Nationwide, it was the banking, savings and mortgage portfolios. At some point, it was time to move out and actually learn the business I was trying to support.
When I left Barclaycard I had a desire to actually spend some time giving something back. I started working in 1981 and thought it would be nice to do something for the country or the world rather than necessarily just looking to make money all the time. It really was that altruistic goal.
What's the biggest challenge of being a modern-day CIO?
The challenges I face are pretty similar to any organisation Cost is a key factor, and how we deliver things on time and on budget. How do we get the quality right, what's the appropriate level of governance?
How do we adapt processes and make them appropriate so we take lots of good out of them without overkill or bureaucracy? We shouldn't be employing people just to manage processes.
Then there are people challenges. How do you motivate people? I have a great asset in that I can motivate people from the cause.
Putting IT people face to face with cancer sufferers [is amazing]. Techies are interesting people to read. You can tap into that drive. That makes it almost easier to motivate techies with something like this than people in operational teams.
There's a whole transformation we're going through here in trying to make this a modern, effective, efficient and passionate IT environment. That's a big focus.
And the most rewarding thing?
When we do things that you can see are making a difference. They can be little tings , for example, unbeknownst to be the team launched a new website called Help Harry. It's for a 12-year-old cancer sufferer who is making beats to raise money. It was four weeks from the moment we were asked to delivering a website.
That's what we're about. People just got on and did it. Those sort of things make it really rewarding,
When you get can sufferers who say "I used your website and it was really helpful." That's when you know why you're here.
[It's also rewarding] when the team take on challenge and achieve it. When they do things quicker or better. When they go that extra mile. It makes it worth coming into work every day.
It gives you faith in human nature when you hear people and their determination to beat disease
Recruitment is never easy. But we probably have a higher quality of people working here than we would deserve from our size or capabilities. People will genuinely work here because they want to be here. Not just IT teams, but I've got some great people and great capabilities.
What is the biggest mistake you think you've made? And your greatest success?
When I started I was told there would be four big projects. Three of them landed in one week. In October last year, our IT team was stretched to its limits. We did all that and are able to celebrate.
You can always do things better but the fact the team got through it is something Im really proud of.
Nationwide was also the first public pilot of Iris recognition that you see at airports.
Not sure one there's one thing [I regret]. At Nationwide we introduced a phenomenol information kiosk year before the internet really took off. If only we'd known. We felt it was the right thing to do at time. Maybe it didn't go as far as it could have done.
Amazon is a bit like the Wild West where you pay less but get less. Amazon isn't a professional IT cloud provider, it's a byproduct of what it does.
There have been a few projects along way where you think "I could have done that differently."
How big a role will cloud computing play in your organisation in the next three years? What other technologies are you watching?
We're probably two-thirds of the way towards moving to private cloud. Moving to this building was a catalyst to creating a higher degree of change. That's paying off.
The vast majority of our systems are now virtualised. Outside of private cloud, we don't think the public cloud is quite there economically I'm sure those economics will change going forward.
There are different types of public cloud. Amazon is a bit like the Wild West where you pay less but get less. Amazon isn't a professional IT cloud provider, it's a byproduct of what it does.
There are [cloud services] that are much more robust and secure and there are economies to achieve that.
We've also moved to a virtual desktop. So the majority of people in this building will get their services through a virtual desktop, which is Windows 7 served through a thin client.
We moved from XP to Windows 7 when we moved to this building That's proving extremely valuable.
We've had some challenges making it work more the VDR tech but when it works, which is the vast majority of the time, people love it.
We're going to complete our move into IP telephony. The task is to take it to the next level of intimacy. But that's a huge step and not a priority. Eventually, the desktop will be the way we do everything.
The second datacentre being virtualized will take about two-thirds of that cost out. It's al like going back to days of mainframe in the sense of thinking about capacity planning.
Project delivery will no longer have to think about server design and I need this amount disk. It will just be provisioning that environment and doing the right capacity planning to look at what the increased needs will be rather than we now need to go and buy another 10-15 servers.
It should improve our flexibility and time to market and should flow through into reduced costs.
If wee lose this building all we need is a net connection and people can start as when they left. Again there's a real reduction in cost for us there, too.
We're also in the final stages of a Siebel implementation that will be completed this year.
The web is a key way we deliver services. What is that going to be like in 10 years time? How do we make sure our brands survive that transition
And how do we deliver to digital natives who expect to consume even their office services through an app type model?
That's a key part for us. Big data will give us greater capabilities to do imaging for radiography and so on.
The management of that big data is stretching our minds along with need for much higher processing. Other industries may have been doing this in the past but for life sciences it's a relatively new phenomenon. We're trying to understand what that means for us as a charity and for our researchers. Which is interesting when you come from a banking background!
We're trying to get our head around how we can create new ways of fundraising At some point we'll be able to make proper mobile payments through the banking system. At that point people will know the money is coming out of their bank account as opposed to being added to their mobile phone bill.
What are the most important criterion you use to make decisions that impact your business and why?
There's got to be some business case. What the business case is for fund raising will be different to our information team.
The payback could be much more tangible on the information side.
There's got to be a viability and risk management. How do we achieve what the business needs in a way that's doable quickly, efficiently and effectively?
The third piece is around whether we have the people to do it. Like others, the demand is difficult. The ability for both us in IT and business to manage change is key in anything we do.
People leadership isn't a prized facet of being in IT but you can't be a CIO without being a good people leader or having good people close to you.
What advice would you give other CIOs?
You need the ability to understand technology. I don't understand the nth degree of networking, and I don't particularly want to, but the fact I can quiz and get a sense of whether people are trying to pull the wool over my eyes is important.
You need to be able to understand the technology well enough to have a full on conversation with your techies.
People leadership isn't a prized facet of being in IT but you can't be a CIO without being a good people leader or having good people close to you.
I always tell people IT is ac an artisan craft. It's the least automated of functions in the business. You rely on your people. You're only as good as you re people. Leading people is a critical part of being a CIO.
For me a good CIO really needs to understand the business. I would advise people to actually spend time in the business. It doesn't have to be the business you want to end up in but spending time in business as opposed to an IT function will really give you a good insight into what people need from IT.
You go back with a different attitude as to how to provide IT as a service. It's not something a lot of IT people think about. Put yourself on the other side of that fence!
For more information visit www.ciosummiteurope.com.
Get the ITPro. daily newsletter
Receive our latest news, industry updates, featured resources and more. Sign up today to receive our FREE report on AI cyber crime & security - newly updated for 2023.
Maggie has been a journalist since 1999, starting her career as an editorial assistant on then-weekly magazine Computing, before working her way up to senior reporter level. In 2006, just weeks before ITPro was launched, Maggie joined Dennis Publishing as a reporter. Having worked her way up to editor of ITPro, she was appointed group editor of CloudPro and ITPro in April 2012. She became the editorial director and took responsibility for ChannelPro, in 2016.
Her areas of particular interest, aside from cloud, include management and C-level issues, the business value of technology, green and environmental issues and careers to name but a few.