CIO Series: Philippe Paban, Renault
Philippe Paban, vice president of supply chain and information systems at Renault explains why the cloud has limited appeal.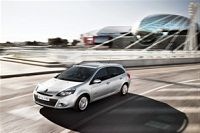 Describe your role in three words.
I lead systems construction and strategy.
How did you get to where you are today?
I came mainly through an engineering route. I started as a project manager, did some consultancy, specialising in supply chain at Ernst and Young and business development with Thomson.
What's the biggest challenge of being a modern-day CIO?
Firstly, it's always about ensuring business alignment, making sure that all IT responds to the demands of the business and ensuring that all-business priority.
The secondary challenge is innovation helping the business implement technology that brings major successes. Also skill development [is important], making sure that all the IT teams are up-to-date with current trends.
And the most rewarding thing?
You don't do the jobs if you need a lot of recognition!. We all know that chief executives (CEOs) don't come from IT. But it's a rewarding job. It makes me happy when a customer is satisfied and when there's a good partnership with business that's good for the company.
It's always about ensuring business alignment.
What is the biggest mistake you think you've made? And your greatest success?
Once when I was working for a pharmaceutical company I launched a customer relationship management (CRM) project without any strong business involvement or input.
We developed a customised solution when it would have been better to have gone to the market and buy an existing product. In the end, we had to go back to the business and start again.
As for my greatest success, that was when I was working in the consumer electronics business. We developed a core enterprise resource planning (ERP) system, which was so successful that it was developed further so that it could be employed in a range of full business processes. It proved to be so efficient that it was used all over Europe.
A daily dose of IT news, reviews, features and insights, straight to your inbox!
A daily dose of IT news, reviews, features and insights, straight to your inbox!
Thank you for signing up to ITPro. You will receive a verification email shortly.
There was a problem. Please refresh the page and try again.