eBay asks Ofcom to up mobile broadband game
Ofcom is called on to improve mobile broadband coverage in the UK, as eBay claims the UK could miss out on billions if action isn't taken.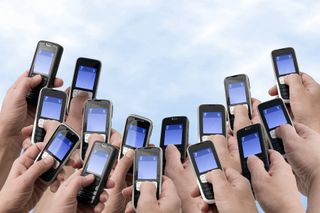 Online auction giant eBay has called on Ofcom to help improve mobile network connectivity, claiming poor coverage was damaging the UK economy.
The nation is missing out on 1.3 billion of consumer spending as poor networks put people off shopping via their mobile devices, eBay commissioned research claimed.
The study suggested 16 per cent of the UK did not have adequate hot spots for shopping. In these areas, people spent at least 20 per cent less than the national average.
Mobile shopping could provide a 4.5 billion boost to the country's economy by 2016 and another 13 billion by 2021, the report claimed. The mobile commerce market is set to be worth 19 billion by 2021, eBay said.
eBay called on Ofcom to expand coverage and ensure the 4G rollout does not exclude parts of the UK.
"High quality and reliable mobile broadband coverage throughout the UK has to be our ambition, giving consumers choice over when and how they shop, encouraging spending, thereby benefiting online and high street retail, and giving a much needed boost to the fragile economy," said Angus McCarey, UK retail director for eBay UK.
eBay named the top 10 worst areas for mobile coverage in the UK, most of which were in rural areas. However, West Central London (postcode WC) came in sixth, where mobile spend was 38 per cent below the national average.
Scotland had a poor turnout, as the Outer Hebrides was ranked as the worst, closely followed by Lerwick.
Birmingham was rated as the top mobile shopping hotspot, with spend 75 per cent above the national average.
Earlier this month, MPs urged Ofcom to push operators into providing better mobile internet coverage.
In a House of Commons debate, led by a motion from Tory MP Rory Stewart, all parties agreed the upcoming 4G spectrum auction should result in better mobile broadband coverage for the UK.
"Growth in Britain is going to come from small businesses and it will be driven by mobile broadband," said Stewart today.
"In rural areas, our businesses depend upon online activities, e-commerce and increasingly eBay and m-commerce. This is another fantastic example of why we must take this opportunity to expand mobile broadband coverage as far as possible."
A daily dose of IT news, reviews, features and insights, straight to your inbox!
A daily dose of IT news, reviews, features and insights, straight to your inbox!
Thank you for signing up to ITPro. You will receive a verification email shortly.
There was a problem. Please refresh the page and try again.