Touch screens, clouds and tablets
Inside the enterprise: Apple is by no means the only company putting the tablet to work for business.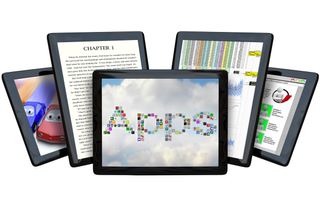 Apple may, so far, have failed to win over investors and commentators with the iPhone 4S, but the hype leading up to the company's upgrade announcements rather overshadowed other developments in technology. Some of these developments could well bring deeper changes in the way businesses use IT, than even a future iPhone 5.
Whilst Apple launched the iPhone 4S at its Cupertino offices, Los Angeles played host to Adobe's annual MAX developer event. MAX brings together people from both the creative and technology industries: photographers, film makers, and graphic designers mix with web developers, Flash programmers and people developing apps for smart phones and tablets. Indeed many, if not most, of the professionals attending MAX are die-hard Apple users.
So there were certainly a few sharp intakes of breath when Adobe's CTO, Kevin Lynch, unveiled a new version of Adobe's Photoshop, for Android. For years, Photoshop has been Adobe's flagship product, and Adobe already has iPad apps, such as Ideas. But Photoshop Touch has been designed for Android tablets.
The reasons are mostly pragmatic. Relations between Adobe and Apple were strained last year by a public argument over Flash.
But, according to Lynch, Adobe will be developing apps for both iOS and Android, but will release different apps for each platform at different points. The decision to go first with Android for Photoshop Touch is largely a result of a partnership with Samsung, which is developing a touch-sensitive stylus for the Galaxy Tab.
Setting up a tablet to work with a stylus might be a step back in some ways; Steve Jobs mocked the very idea of using a stylus on smartphones when he launched the original iPhone.
But being able to use different input and control devices extends the usefulness of tablets, so they can be used for a wider range of tasks. Photographers or illustrators might want to use a tablet and Photoshop so they can sketch out ideas whilst away from their desks, but using a stylus has its advantages in any area where the user needs to manage a detailed screen. That could include engineering, medicine, scientific research, business intelligence and analytics, or even something as prosaic as market research surveys.
The new version of Photoshop is not just about tablets, though. It is also tightly integrated with Adobe's cloud computing environment. The company's Creative Cloud, also announced this week, sets out to ease collaboration between creatives, and also businesses that use creative content and services.
One of the first services, Carousel on the iPad this time allows photographers to store, view, share and even manipulate images. The images are stored in the cloud, and any manipulation applied to the image, such as a crop or filter, on the iPad, is reflected on the photographer's computer. And the changes are non-destructive, so can be undone just as easily as they are applied.
Adobe is already investigating ways of applying the technology to video files, but the potential goes beyond that. Combine the power of a tablet device, with the ubiquitous access and vast storage of the cloud, and businesses could have an entirely new way of accessing their data on the move.
And it should work on the iPhone 5 too, when that eventually does come around.
Stephen Pritchard is a contributing editor at IT Pro
A daily dose of IT news, reviews, features and insights, straight to your inbox!
A daily dose of IT news, reviews, features and insights, straight to your inbox!
Thank you for signing up to ITPro. You will receive a verification email shortly.
There was a problem. Please refresh the page and try again.