Apple Covent Garden store robbed
iPads and other Apple gear is pilfered by a gang of motorbike-driving thieves.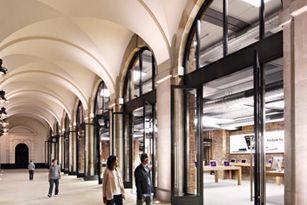 The Metropolitan Police were alerted today of a break-in at the Apple Store in Covent Garden, London.
At approximately 01.00am a window was broken into and property taken from the store, police reported.
"It is believed there were around seven moped riders/motorcyclists involved, most if not all with a pillion passenger. All persons were in full face crash helmets," the Metropolitan Police added.
The robbers reportedly stole iPads and "other similar devices."
Islington police followed a moped that may have been involved in attempt to stop it, but failed to catch it.
A moped was then found abandoned around Wyclif Court, St John Street EC1, and officers saw two men on foot 20 minutes after the break-in occured. Property, believed to be stolen from the store, was found in their possession.
These two men, 16 and 21 years old, are now in custody at a police station in North London.
"Although two men are in custody on suspicion of burglary, the inquiry continues and other persons are sought. It is essential that anyone who saw the smash-and-grab, or the suspects making off, contact us as soon as possible," DS Nathan Tozer of Westminster CID said.
Rob Shoesmith, a blogger who was camping outside the store when it happened, reported he woke up to a loud noise of motorbikes, a smash and grab and an alarm going off.
"Looks like a lot of Mac computers have been stolen with four motor bikes," Shoesmith said in a blog post.
A daily dose of IT news, reviews, features and insights, straight to your inbox!
A daily dose of IT news, reviews, features and insights, straight to your inbox!
Thank you for signing up to ITPro. You will receive a verification email shortly.
There was a problem. Please refresh the page and try again.