AWS Re:Invent: Who's flying high in the AWS cloud?
Amazon Web Services' inaugural global tech conference saw firms of all shapes and sizes bang the drum for its cloud services. Caroline Donnelly finds out why.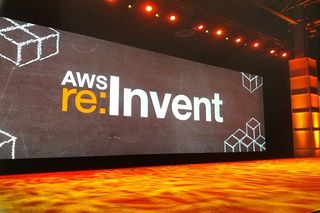 The limitations and high cost of using on-premise products was, perhaps unsurprisingly, one of the most popular topics of discussion at the inaugural Amazon Web Services (AWS) conference in Las Vegas.
Over the course of the Re:Invent conference, AWS trotted out numerous examples of companies that have been able to swiftly respond to sudden spikes in web traffic, for example, by shunning on-premise and embracing cloud.
During the event's opening keynote, delegates were treated to a high octane retread of how AWS helped NASA's Jet Propulsion Laboratory (JPL) stream images and videos of the Mars rover Curiosity landing to millions of people worldwide on 5 August 2012.
Later on, during the same keynote, Reed Hastings, chief executive of online movie streaming service Netflix, told delegates how partnering with AWS has helped it cope with the demands of its growing customer base.
No-one wants their name associated with a million dollar project failure.
Hastings said, since the company's inception in 2008, it has seen a 1,000-fold increase in the monthly demand for streamed content, from one million hours in 2008 to a billion hours this year.
"We recognised that Netflix's computational resources would grow rapidly [from the start]... so we started thinking about how to build out our datacentres...and [not long after that] we started working with AWS," explained Hastings.
"The biggest benefit [is] the scale you can operate at...that gives us the ability to spin up [when we need resources] and allows us to participate in a cost [reduction] curve we couldn't have [if we had gone it alone]."
Other high-profiles examples included social networking site Pinterest, with the firm's operations lead, Ryan Park, taking the stage during the second day keynote to discuss the cost savings cloud had afforded it.
"Most of our users are in the United States, so peak traffic is between 6pm to midnight our time. We used 80 servers to handle that, but late at night and early in the morning, those servers would be wasted," he explained.
"So, we've implemented auto-scaling, which lets us on average - shut down around 20 per cent of these servers when we're not using them...which cuts our expenses by 20 per cent as well."
Unusual suspects
The breadth of companies from one-man bands to enterprises that rely on AWS was repeatedly highlighted. During his keynote, Jeff Bezos, Amazon's founder and CEO, even admitted his surprise at how keenly larger firms have adopted the company's online services.
Something else that might come as a surprise to some is the willingness of global stock exchange provider NASDAQ OMX to entrust its data to cloud, given that the financial services industry is often considered a bad fit for web-based services because of how tightly regulated the industry is.
Back in September, the company announced it was partnering with AWS to deliver its FinQloud service, which will allow stock market traders to store records and customer emails in the cloud.
Typically, people working in the financial services industry are required to retain trading information for seven years, which can result in large on-premise storage bills.
To help counteract this, Ted Myerson, senior vice president of global access services at NASDAQ OMX, said the organisation set about finding a way for brokers to securely store their data in the cloud.
"Data storage [is] quite complex [for financial services companies] because we're in a highly regulated environment...that has strict guidelines governing the way data is captured, stored and handled and up until this point it's been done on legacy means," Myerson told IT Pro.
"So we wanted to solve the pain point where firms can outsource this initiative. It's not really differentiating their business, but the cost to maintain this is ever increasing.
"Not just because the size of the data is growing, but because they are receiving lower amounts of revenue from their customers for delivering these services," he added.
The data stored in FinQloud is safeguarded by AWS' own security measures, but NASDAQ has also added its own layer of encryption and decryption on top.
As a result, Myerson claimed brokers are now becoming increasingly open to moving more of their infrastructure to the cloud.
"[The reasons for this] is because [they] want to leapfrog this point in time where they are now with supporting and maintaining their legacy infrastructure and embrace this technology [which may have been off limits in the past] because we can offer these security assurances," he added.
If you're constantly successful, you've got no incentive to push yourself and innovate.
Another common theme of discussion among the firms that spoke up about their involvement with AWS is that cloud procurement cycles are much shorter than on-premise ones, which means they can get moving on IT projects within weeks rather than months.
This also means companies can spend more time on developing new products and services, rather than IT stuff, as AWS does most of the "heavy lifting" for them.
Despite this, Iain Gavin, UK and Ireland country manager at AWS, was keen to stress the importance of IT departments to businesses will not diminish in the face of cloud.
Although, he admits, not all members of the IT pro community may see things that way.
"Some human beings embrace change, others don't," Gavin told IT Pro.
"[What they need to realise is] generally what we are doing is empowering them so that more can to be done with the same amount of [IT budget].
"We're a lower cost way of doing things, [which allows] more projects [to be] deployed."
To this end, cloud means IT teams should have more opportunities to innovate and experiment, which because of the high cost of on-premise projects they may not have done in the past.
"No-one wants their name associated with a million dollar project failure. But with cloud, you can afford to push yourself [into new areas] and, if you fail...you try again," added Gavin.
"Also, if you're constantly successful, you've got no incentive to push yourself and innovate."
Get the ITPro. daily newsletter
Receive our latest news, industry updates, featured resources and more. Sign up today to receive our FREE report on AI cyber crime & security - newly updated for 2023.
Caroline Donnelly is the news and analysis editor of IT Pro and its sister site Cloud Pro, and covers general news, as well as the storage, security, public sector, cloud and Microsoft beats. Caroline has been a member of the IT Pro/Cloud Pro team since March 2012, and has previously worked as a reporter at several B2B publications, including UK channel magazine CRN, and as features writer for local weekly newspaper, The Slough and Windsor Observer. She studied Medical Biochemistry at the University of Leicester and completed a Postgraduate Diploma in Magazine Journalism at PMA Training in 2006.
Get the ITPro. daily newsletter
Receive our latest news, industry updates, featured resources and more. Sign up today to receive our FREE report on AI cyber crime & security - newly updated for 2023.
Thank you for signing up to ITPro.. You will receive a verification email shortly.
There was a problem. Please refresh the page and try again.