Christmas puddings, and Raspberry Pi
Inside the Enterprise: Tech's greatest achievement of 2012 could yet turn out to be a tiny, cheap computer.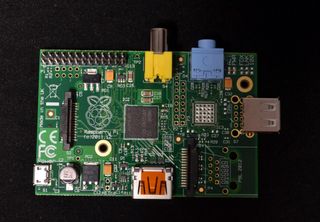 This year has not been short of technology milestones. There was the Facebook IPO, the Communications Bill, the EU's ruling on rural broadband funding, 4G finally making it to the UK, the release of Windows 8, and the news that Gary McKinnon would not face extradition to the US - and just this month - that he will not face charges here.
And, if you really, really must, there was the release of the iPhone 5 and iPad Mini.
But whilst gadgets, social networks, and even operating systems come and go, something that lays foundations for the future will have a much more long-lasting impact. That something could well turn out to be the Raspberry Pi.
A whole generation of developers, programmers, games designers and technologists and no small number of CIOs cut their teeth on the ZX81 and Spectrum, and the BBC Micro. These were, even for their time, relatively simple, and above all, cheap, computers. And they promoted the idea of learning to write code.
Devices such as the iPhone, the iPad and Android handsets have certainly created a new buzz around apps, and being a developer is almost cool. But for learning the basics of how a computer works, and for basic programming, the Raspberry Pi has a lot going for it. It is simple, cheap, and really quite powerful.
The Raspberry Pi foundation has just launched its own app store, and developers can submit their software apps, written in the Python language. But the store plans to accept applications written in Scratch, the Pi's language aimed at junior programmers. So it is entirely possible that next year's best-selling apps will have come from schoolkids. Meanwhile, there's already a version of LibreOffice, and a Spotify music client.
Perhaps most remarkably, although it's not on the store, there is a version of the Asterisk phone system, or PBX, for the Pi, called rasPBX. The idea that a device costing just 25 can run an office phone system is little short of remarkable, and the potential for new applications in areas such as building automation or even, perhaps as a prototype or low-cost development platform, health, is vast.
Couple that with the powerful effect of introducing a whole new generation to the idea of computer programming, and to the idea that we can control machines and ask them to do our bidding, and it's clear that the Pi is the start of something that could do much more than just change the technology and IT industries.
In a few years, if all goes well, Pis, or applications and devices developed and tested on Pis, could be in use in all walks of life. And, of course, this remarkable little computer is a British idea too.
Happy Christmas and a prosperous New Year to all our readers.
Stephen Pritchard is a contributing editor at IT Pro.
Get the ITPro. daily newsletter
Receive our latest news, industry updates, featured resources and more. Sign up today to receive our FREE report on AI cyber crime & security - newly updated for 2023.