Android Wear 2.0 release date and features: Google changes the software's name to Wear OS
Wear OS by Google aims to better show how iPhones can be used with Android wearables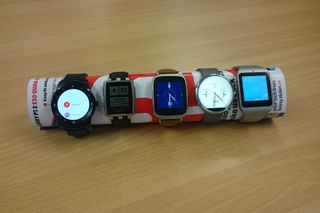 Android Wear is the operating system powering smartwatches from manufacturers like Samsung, Sony and Huawei.
At its I/O 2016 developer conference, Google announced a massive overhaul of the software, including a shedload of new features that should make it more fun, more functional, and a much more capable rival to the Apple Watch.
Latest news
Google has ditched the Android Wear moniker and changed it to 'Wear OS by Google' to better communicate that its wearables focused software platform is not tied to Android phones.
"We're announcing a new name that better reflects our technology, vision, and most important of all the people who wear our watches. We're now Wear OS by Google, a wearables operating system for everyone," Google's Dennis Tropper, director of product management at Wear OS by Google said. "You'll begin to see the new name on your watch and phone app over the next few weeks."
Android Wear currently works with both Android smartphones and iPhones, though some of the features for Android Wear are not available on Apple's phone.
As such, adopting the Wear OS nomenclature is one way to better communicate this, particularly as it would appear to be a cheeky nod to Apple's own watchOS operating system, which unsurprisingly works only with iPhones.
Google claimed that there's a rising number of iPhone users choosing to pair their iPhone with Android Wear devices: "In 2017, one out of three new Android Wear watch owners also used an iPhone."
There's no work on whether the branding will usher in a redesign of Google's wearables platform, but it certainly seems to be poised to forge its own ecosystem beyond Android.
20/01/2017: Google partners with LG to launch two new smartwatches
Google will be partnering with LG in order to produce two smartwatches to coincide with the launch of Android Wear 2.0, confirming earlier rumours.
The two devices, known as the LG Watch Sport and the LG Watch Style, will be revealed on 9 February as part of the new operating system's official launch, according to VentureBeat.
Both models feature round, OLED displays, with the Watch Sport carrying higher specifications than its stablemate. The Sport has a larger, higher resolution screen than the style a 1.38in, 480 x 480 display compared to a 1.2in 360 x 360 panel and has a larger battery capacity and RAM allocation.
While they both feature WiFi and Bluetooth, the Sport also has support for 3G and 4G data connectivity, as well as GPS and NFC which will allow it to be used with Android Pay. The flagship also has a heart rate sensor, and will be capable of telephony functions independent of the user's phone. Both models will be water and dust resistant although the Sport will be IP68-rated, while the style just has an IP67 rating.
Both models will also feature an Apple Watch style digital crown' that will be used for navigation within the software, in addition to the usual touchscreen capabilities.
The Sport is 14.2mm thick and will be available in titanium and dark blue, while the Style will come in titanium, silver and rose gold, and will be slightly slimmer at 10.8mm.
In addition to new devices, Android Wear 2.0 will also be rolled out to a small number of older Android-based smartwatches. Models to receive the updated OS reportedly include:
The second-generation Moto 360
The Moto 360 Sport
The LG Watch Urbane
The LG G Watch R
The Polar M600
The Casio Smart Outdoor Watch
The Nixon Mission
The Tag Heuer Connected
The Fossil Q Wander
The Fossil Q Marshal
The Fossil Q Founder
The Michael Kors Access Bradshaw Smartwatch
The Huawei Watch
The Huawei Watch Ladies
The Asus ZenWatch 2
The Asus ZenWatch 3
07/07/2016: Google may be planning to launch its own range of Android Wear smartwatches.
The company intends to release the devices, possibly under the Nexus brand, after it announces the next collection of Nexus Phones, Android Police reports. Rumours indicate that Google could release two smartwatches, one large and one smaller with fewer features.
The site notes it is "extremely confident" that the rumours are true, and that Google is in the process of prototyping the Wear devices according to multiple reliable sources.
If true, the larger watch - codenamed Angelfish - will include LTE, GPS and heart rate monitor, putting it in direct competition with others on the market. Both will have full circular displays, with the smaller model believed to be codenamed Swordfish.
The report is also bolstered by the announcement of standalone Wear apps at I/O.
13/06/2016: Many older smartwatches will not be receiving the massive Android Wear 2.0 software upgrade, it has been announced.
Although there have been no official announcements from Google regarding which hardware will be supported, manufacturers have begun confirming that certain devices will not be receiving the update.
LG, for example, has confirmed that the original G Watch (the square model rather than the round G Watch R) will not be updated to Android Wear 2.0, and the first-gen Moto 360 will be similarly out of luck.
These devices will still function as they do now, but they will miss out on the new and improved features set to be introduced by Android Wear 2.0, including better text input controls and less obtrusive notifications.
25/05/2016: Android Wear may have just been dealt a major blow by Samsung, as the company revealed that all its future devices will now be made with its own Tizen OS, rather than Google's software.
According to Samsung executives speaking to Fast Company, the South Korean tech giant has opted for its own OS in the interests of brand consistency.
Aside from Samsung's smartphones, laptops and tablets, all of its other products and appliances use Tizen as their core, including connected refrigerators and televisions.
The company also cited the improved battery efficiency of Tizen over Google's Android Wear platform. To date, the company has produced only one smartwatch using Android Wear, while the majority of its devices have run Tizen.
Samsung has apparently attempted to backpedal from these comments, however. "Samsung has not made any announcement concerning Android Wear," a statement read, "and we have not changed our commitment to any of our platforms".
Release date
Short answer: we don't know. Google has said that it'll be arriving at some point in Q4 2016, but that's as much information as we have. If it's anything like the rollouts for the core Android OS, however, expect release dates to vary based on manufacturer.
Of course, if you're absolutely desperate to get your hands on it now, you can install the developer preview, which will give you access to an early build of the software. You'll have to have either a Huawei Watch or an LG Urbane 2, though.
Keyboard
One of the most exciting new additions is the ability to type text directly into the watch itself. Supporting handwriting recognition and Swype-style inputs as well as traditional typing, it provides a quick, easy way to respond to messages.
Android Wear has allowed users to dictate responses since it launched, as well as offering a selection of canned replies, but neither option is particularly convenient, and this feature adds a lot more usability to the software.
It struggles slightly with longer messages, but considering that it's designed for banging out speedy, basic responses, this shouldn't prove to be a problem.
Speaking of Wear's canned replies, these have also been tweaked. Google is integrating Gmail's smart replies, giving users an automatically generated list of three contextually relevant responses.
Watch face complications
While Android Wear has a fairly robust selection of watch faces in various styles to choose from, many of them are distinctly lacking in functionality. Wear 2.0 is set to remedy this with the introduction of 'complications'.
Complications display app data such as battery level, step count or number of emails, similar to widgets on a smartphone. They can pull data from both system processes and third-party apps.
This means that Android Wear's watch faces are going to become a lot more useful, displaying a range of handy information without having to dig through the notification cards.
Material design
Android Wear is finally getting a fresh coat of paint, as the company brings its Material Design sensibilities to the wearable OS. It's darker than before, and looks much more in-keeping with the appearance of full-fat Android.
It's also been tweaked specifically for round devices, which Google claims make up the majority of Android Wear smartwatches. This consists principally of a new launcher, which scrolls your apps around the side of the watchface, rather than in a straight list.
It looks incredibly slick and professional, but more importantly, it also adds more functionality, in that more of your apps are visible at once. Notifications have also changed, and will feature smaller, more neatly designed icons.
Standalone apps
Good news for those who own both an iPhone and an Android Wear device - Google is introducing standalone apps, meaning you can install them directly onto the watch.
They'll also be able to use the watch's onboard networking technology without having to be tethered to a device, and thus won't be dependent on the battery life and internet connection of your smartphone.
Google claims this will allow iPhone users to have a much better experience with Android Wear, closer to that which Android users have with the devices running it.
Fitness detection
Google Fit, the company's stock fitness app, now has the ability to automatically detect activity, whether you're running, walking or cycling, and log it automatically. Data sharing between various different specialist fitness apps has also been overhauled.
This is good news for fitness buffs, especially as it emerges that dedicated fitness trackers like Fitbit may not be quite as accurate as they've been made out to be.
Get the ITPro. daily newsletter
Receive our latest news, industry updates, featured resources and more. Sign up today to receive our FREE report on AI cyber crime & security - newly updated for 2023.
Caroline has been writing about technology for more than a decade, switching between consumer smart home news and reviews and in-depth B2B industry coverage. In addition to her work for IT Pro and Cloud Pro, she has contributed to a number of titles including Expert Reviews, TechRadar, The Week and many more. She is currently the smart home editor across Future Publishing's homes titles.
You can get in touch with Caroline via email at caroline.preece@futurenet.com.