Five years of app stores, and software has changed forever
Apple's pioneering App Store has changed the way consumers buy software. And businesses are following.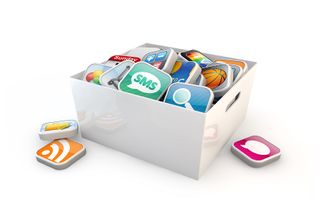 Inside the Enterprise: Apple's App Store is five years old. In that time, it has changed both the way we think about software, and even our vocabulary.
Once, few people talked about computer programs with any degree of enthusiasm, unless perhaps they worked in this industry. But millions of consumers have now downloaded software to their phones and tablets, and the term "app" has entered the mainstream.
Apple alone claims that downloads from its app store passed the 50 billion mark in June. Google Play, the main Android app store, is expected to pass that mark this year too, taking the number of apps downloaded to over 100 billion.
For consumers, the main advantage of app stores is convenience. Price is a factor, of course: plenty of apps are either free, or advertising funded.
For smartphone owners, being able to add to their devices' functions with a simple download, over the air, is that much easier than the old method of downloading a software installer to a PC, finding the (phone specific) connection cable, and then running obscure installation software. That phones are so much more powerful and can do more interesting things doesn't hurt, either.
For businesses, apps have also brought changes, but the picture is more mixed.
Although computers now have app stores too there is the Mac App Store from Apple and also an app store for Windows 8 take up has been slower, and the app choice is more limited. Key apps, such as Microsoft Office, are missing from the Mac app store, whilst software vendors such as Adobe have opted for a subscription model.
Rather, growth is coming from either bolt-on applications and utilities, or cloud-based services. It is increasingly easy to download services such as Evernote or Dropbox, and use these alongside mainstream business applications; some might argue it is even too easy, given the potential security concerns.
But allowing individual users to download, and update, their applications via an app store is fundamentally changing the way businesses deploy software too. Larger organisations can set up their own app stores; others have created lists of approved apps that they have tested. Although there are some concerns around areas such as payments for apps, the idea of expensing iTunes credits, or allowing downloads to be billed to a mobile phone account, may well be more efficient than corporate purchasing.
As Alexandre Mesguich, VP of enterprise research at analysts CONTEXT puts it, app stores have already changed the software landscape, and will continue to do so.
He believes that app stores will increase the number of enterprise programs available to buy, and will also become more flexible, when it comes to payments. And mobile device management technology is also being updated, to give businesses more control over who downloads which apps, and how they pay for them. The app store, it seems, is here to stay.
Stephen Pritchard is a contributing editor at IT Pro.
A daily dose of IT news, reviews, features and insights, straight to your inbox!
A daily dose of IT news, reviews, features and insights, straight to your inbox!
Thank you for signing up to ITPro. You will receive a verification email shortly.
There was a problem. Please refresh the page and try again.