BT targets London broadband weak spots
Comms giant will trial fibre in building basements to improve broadband speeds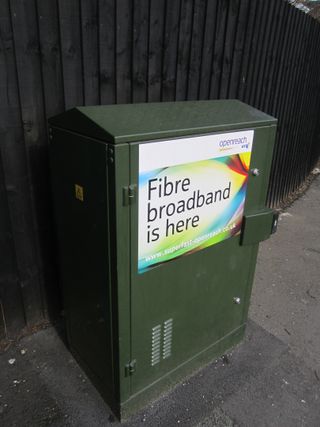 BT is targeting hard-to-reach broadband weak spots in the City of London, following the roll out of a fibre network across the Scottish Highlands.
The comms giant will trial what it calls "fibre to the basement" in two central London buildings come January, with the aim of improving people's broadband speeds from 20Mbps to 80Mbps.
London's broadband quality was found to be second only to Seoul in accountants PWC's recent assessment of 30 cities' technology infrastructure.
But BT said a small minority of inner city buildings are served by exchange-only lines, which connect to the local telephone exchange directly rather than to one of BT's street cabinets (pictured), which house faster fibre.
Due to London's tightly packed streets and buildings, BT could not build street cabinets to serve those properties without incurring huge costs and planning complexities.
Joe Garner, CEO of Openreach, BT's infrastructure division, said: "City-centre locations present unique challenges when it comes to upgrading consumer broadband.
"For example, there is less room for us to install a fibre cabinet on the pavement, and it is often harder to get permission to close roads to do the work. We also need to secure permission from multiple landlords to run new cables across their land and properties."
To get around the problem, BT plans to install its fibre broadband kit into buildings' basements instead.
The New Year trial will connect 225 homes in the Middlesex Estate and around 50 SMBs at 65 London Wall to faster broadband provided by more than 130 different service providers.
Graham Bell, CIO of the City of London Corporation, said: "All businesses are keener than ever to be well-connected and this fibre to the basement pilot is a welcome step forwards, especially for smaller SMBs, who are critical to London's commercial dynamism.
"We hope the trials will lead to further expansion of fibre broadband across the Square Mile for residents and SMBs, complementing the Ethernet infrastructure already available to larger firms."
Garner added: "We are optimistic that this new solution will prove that fibre broadband can be installed into building basements quickly, smoothly and economically. It could also have the added benefit of being less disruptive for our customers and the general public."
A daily dose of IT news, reviews, features and insights, straight to your inbox!
A daily dose of IT news, reviews, features and insights, straight to your inbox!
Thank you for signing up to ITPro. You will receive a verification email shortly.
There was a problem. Please refresh the page and try again.