Ofcom fines BT a record £42m for slow broadband installations
BT failed to compensate rivals for delayed line installations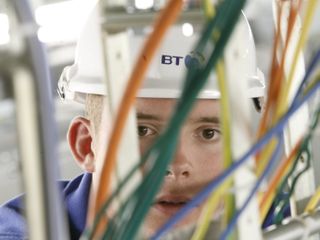 BT has been hit with a 42 million fine for failing to install high-speed business lines fast enough, in what is being described as a "serious breach" of contract terms.
Following an investigation by Ofcom into BT's fibre rollout arm Openreach, it was found that BT had abused the terms of its contracts by cutting compensation payments for delayed Ethernet line installations.
These high-speed business lines are the most common type of leased lines used by businesses and public services, offering high-speed and high-capacity data transfer to both BT and other telecoms providers.
Regulator Ofcom found that between January 2013 and December 2014, BT "misused the terms of its contracts to reduce compensation payments owed to other telecoms providers for failing to deliver 'Ethernet' services on time". The fine represents the largest ever made against a telecoms company.
BT breached competition rules and exploited its position as a "significant market power", Ofcom ruled, as most telecoms companies rely on BT's infrastructure to host connections to customers for services such as broadband.
Gaucho Rasmussen, investigations director at Ofcom, said in a statement: "These high-speed lines are a vital part of this country's digital backbone. Millions of people rely on BT's network for the phone and broadband services they use every day."
"We found BT broke our rules by failing to pay other telecoms companies proper compensation when these services were not provided on time," added Rasmussen. "The size of our fine reflects how important these rules are to protect competition and, ultimately, consumers and businesses. Our message is clear - we will not tolerate this sort of behaviour."
As part of its obligation to Ofcom rules, BT is required to install Ethernet services for other providers, including Vodafone and TalkTalk, in accordance with contracts, and to provide compensation payments for delays past 30 days.
The investigation was opened after Vodafone alleged that BT had abused contractual terms by extending the delivery of Ethernet services without its consent, and had failed to provide any compensation.
BT has admitted its failings, and has agreed to compensate the companies affected. Clive Selley, CEO of Openreach said in a statement: "We appologise wholeheartedly for the mistakes Openreach made in the past when processing orders for a number of high-speed business connections. This shouldn't have happened and we fully accept Ofcom's findings."
BT's compliance knocked 30% (18 million) off the total fine, however the company is likely to pay as much as 300 million in compensation payments to other telecoms providers. A further 300,000 will also be paid to Ofcom for a failure to provide adequate information during the investigation.
The fine comes less than two weeks after the BT agreed to officially separate Openreach, complying with demands issued in November by Ofcom, which believed BT's monopoly over network infrastructure was anti-competitive.
Dan Howdle, consumer telecoms analyst at Cable.co.uk, said: "Today's ruling offers insight into just some of the factors contributing to Ofcom's decision to split BT and Openreach into two separate entities. Clearly, being the sole owner of shared infrastructure has given rise to precisely the sort of conflict of interest of which BT has long been accused."
A daily dose of IT news, reviews, features and insights, straight to your inbox!
A daily dose of IT news, reviews, features and insights, straight to your inbox!
Thank you for signing up to ITPro. You will receive a verification email shortly.
There was a problem. Please refresh the page and try again.