UK gov using emotion detecting AI for digital content
FlyingBinary and Emrays B.V unveil "artificial emotional intelligence" service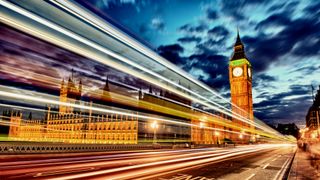 (Image credit: Shutterstock)
The UK government is using a type of artificial intelligence that can detect emotion on social media to measure and understand how people feel on certain topics.
Web science firm FlyingBinary has released the "artificial emotional intelligence" service to the government's G-Cloud marketplace, in partnership with emotional AI recognition company Emrays B.V.
"The web has become a noisy space as online content grows exponentially," said Professor Jacqui Taylor, CEO of FlyingBinary. "Where once tools were in the hands of a social team it is increasingly difficult for humans using social media monitoring to understand the signals about a brand, initiatives, good news or issues."
"This service uses AI technology to understand digital content from an emotional perspective and how resonant this is with an online audience before content is shared online."
The two companies have deployed the artificial emotional intelligence engine as part of a newly awarded G-Cloud 10 service built for the UK government.
FlyingBinary has vast experience in web science, GDPR and security and has thus far supported almost 40,000 government organisations, helping them to understand the dynamics of emotions on the social web, and in the mass media space.
Emrays emotion AI, on the other hand, is said to be able to detect more than 20 distinct emotions in any digital content, which it says can help companies and governmental organisations measure and understand how people feel about any topic, ranging from companies, brands and concepts.
The engine learns collective patterns of emotional reactions to digital content publicly available on the web. The emotion AI analyses and "feels" content on par with humans, based on more than one billion data points it has already been trained on. It uses a diverse set of human emotions, such as love, anger, surprise and shock.
Taylor added that no personal data is used by the AI engine and that it focuses instead on the content itself and the human emotion expressed.
FlyingBinary was one of thousands of small businesses that won the chance to bid to supply cloud computing services to government bodies through the major government procurement framework.
G-Cloud 10, which is predicted by the government to have a potential worth of £600 million, gives the central government, local councils, NHS Trusts and other public sector bodies a way to purchase cloud-based services, such as web hosting from a single, central website.
Oliver Dowden, the Minister for Implementation, said: "Small businesses are the backbone of our economy, delivering innovative solutions in partnership with the public sector, fuelling economic growth and supporting the delivery of efficient, effective public services that meet the needs of citizens.
"The success of G-Cloud demonstrates how we are breaking down the barriers for SMEs who want to supply to the government."
Stay up to date with the latest news and analysis from the world of cloud computing with our twice-weekly newsletter
Bobby Hellard is ITPro's Reviews Editor and has worked on CloudPro and ChannelPro since 2018. In his time at ITPro, Bobby has covered stories for all the major technology companies, such as Apple, Microsoft, Amazon and Facebook, and regularly attends industry-leading events such as AWS Re:Invent and Google Cloud Next.
Bobby mainly covers hardware reviews, but you will also recognise him as the face of many of our video reviews of laptops and smartphones.