Dell pays $22 billion to become a public company again
Tech giant plots route back to stock market via its VMware shares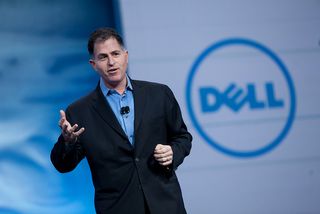 Dell Technologies is set to return to life as a publicly-traded company, five years after going private.
Michael Dell's company will buy out $21.7 billion "tracking" shares it owns in subsidiary VMware in order to fund its return to the stock market, it confirmed today.
The company reached the decision following an independent special committee's review of various routes it could take to regain its status as a public company.
"We have made a lot of progress, and it's a very different company that it was five or so years ago, and we're seeing tremendous momentum inside the business," the founder said in a call with investors today." Earlier this year, we kicked off this process, looked at the various alternatives and concluded that this was a great way to not only simplify the structure but create flexibility for us and expose the great businesses that we have here back to the public markets."
These routes included a traditional IPO of Dell shares, combining Dell and VMware in a 'reverse spin-off', and converting its VMware tracking stock (Class V stock) into shares in Dell itself (Class C stock) - the option it eventually chose.
Going public should allow Dell to shed some of the debt it built up when it bought EMC in 2016, which cost it more than $60 billion.
"We're pleased with the progress we've made on debt repayment while continuing to invest in the business," CFO Tom Sweet told investors. "We've now paid down approximately $13 billion of gross debt, excluding DFS and subsidiary debt - since closing the EMC transaction."
"As of the 4 June earnings call, our core debt balance was $37.8 billion. We're financially strong, and comfortable with our ability to pay down $5 billion in total debt this year, as planned."
Shareholders of the Class V stock would receive shares of Class C stock at an exchange ratio of 1.3665, or $109 per share in cash up to a value of $9 billion.
Although Dell will be returning to the public market, Michael Dell and Silver Lake - the private equity firm that helped the founder take his company off the market in the first place - will still maintain a controlling interest in the company.
"Dell Technologies remains committed to creating long-term value for shareholders, including Michael Dell, who currently owns 72% of Dell Technologies common stock and will continue to serve as chairman and CEO," said Sweet. "Silver Lake remains a long-term partner to Dell and currently owns 24% of Dell Technologies common stock."
A special committee was created to make the decision, and it said in a statement: "We determined that the transaction announced today is the best way to maximise value for all Class V stockholders.
"The implied value of $109 per Class V share provides Class V stockholders with a significant and immediate premium as well as the ability to participate in the future upside of Dell Technologies. Further, the option for stockholders to elect up to $9 billion in cash (nearly half of the implied transaction value) provides stockholders the ability to, in whole or in part, obtain certainty on the value received for their shares."
As a result, VMware will pay a one-time dividend of $11 billion to its own shareholders, but will remain a public company in its own right.
VMware CEO Pat Gelsinger said: "We are pleased to be in a position to return capital to stockholders through this one-time special dividend, which is the result of the exceptional performance of our business and our broad-based portfolio's strong cash flow generation. We remain laser focused on our strategy to deliver innovative software that drives customer success as a strategic and growing independent entity."
"Our family of businesses operates, and will continue to operate, with a 'better together' approach, with cross-business governance from the executive level, all the way through the functional levels, and we will continue to invest for long-term growth, and our focus remains on serving our customers, providing them with a superior experience and the solutions to help them make digital transformation real," Michael Dell told investors.
In a statement, he added: "For our customers and partners, nothing changes. All of our companies, Dell, Dell EMC, VMware, Pivotal, RSA, Secureworks and Virtustream, will continue to operate as they currently do. We remain committed to delivering a robust portfolio of solutions and services to address your IT needs from edge to core to cloud, investing in industry-leading innovation, and making it easier for you to transact across the Dell Technologies family of businesses."
Once it closes, Class V shareholders would own 21% of Dell if they go for the $9 billion cash option, or 31% if they choose to receive the Class C shares in an all-stock option.
The Class C stock will be listed on the New York Stock Exchange (NYSE) if the move is approved by a majority of "unaffiliated" tracking stockholders, and Dell expects to complete the transaction in the fourth quarter of 2018.
Once it closes, Class V shareholders would own 21% of Dell if they go for the $9 billion cash option, or 31% if they choose to receive the Class C shares in an all-stock option. According to Dell's figures, this would put Dell Technologies' pro forma equity value at $17.5 billion, not including the value of its publicly-traded subsidiaries, WMware, Pivotal and SecureWorks.
Picture: Michael Dell/Credit: Oracle PR (Creative Commons License)
A daily dose of IT news, reviews, features and insights, straight to your inbox!
A daily dose of IT news, reviews, features and insights, straight to your inbox!
Thank you for signing up to ITPro. You will receive a verification email shortly.
There was a problem. Please refresh the page and try again.