The UK's best cities for tech workers in 2022
The range of exciting jobs, chances to network, and overall ease of living put these cities a cut above the rest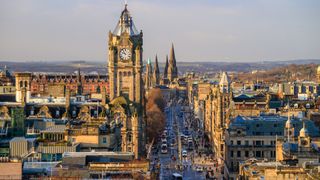 When you're looking for a new job, relocation can be a nerve-wracking prospect. While some industries cluster around cities, others offer up a range of options in regards to location and there are always many factors to consider.
With working from home still a regular setup for some employees, and careful consideration of value-for-money on everyone's minds, moving away from London or towards areas with better WiFi is on the minds of many. Luckily, the UK is diverse in its range of options for city living and working, with a few in particular sticking out for their unique features and overall quality of life.
Manchester: The underdog turned tech hub
Boasting the largest financial services industry outside of London, Manchester consistently ranks as one of the best performing city economies in the UK. Home to over 62,000 tech jobs, it was listed last year as the most impactful tech hub in the UK after London.
Home to MediaCityUK, which houses the BBC and ITV Granada, Manchester is undoubtedly one of the hottest spots in the country for creative professionals in addition to its tech credentials.
For cost of living ease of mind, Manchester is undergoing public transport reform led by the mayoral office, which will see bus fares capped at £2 per journey or £5 for a single day's travel across Greater Manchester. Although this doesn't hold up against the sheer number of buses available in London, Manchester's lower overall cost of living gives it the edge for a young professional looking to work in the industry on a budget.
Recent additions in Manchester's gaming space include Team17, Cloud Imperium and Sumo.
Key names: BBC, ITV Granada, PWC, Boohoo, Auto Trader
Reading: A magnet for technology companies
Although Reading is usually associated with music festivals, it's also emerged as one of the most popular destinations for major tech companies in the UK. Home to Microsoft's UK headquarters, companies such as Oracle, Huawei, Nvidia and Virgin Media, also have offices in Reading and the surrounding Thames Valley area.
For the volume of tech jobs combined with accessibility to London, Reading might be a hard city to beat when one considers the comparatively low cost of living there compared to the capital.
RELATED RESOURCE
Powering through to innovation
IT agility drive digital transformation
The city is also wonderfully placed to be close enough for a commute into London while also benefiting from easy access to Heathrow airport. This, coupled with a lower cost of living than the capital, has made it particularly attractive for graduate students. This is particularly true for those looking for roles in cyber security.
Key names: Microsoft, Huawei, Oracle
London: A startup haven
While London would rank highest on a number of metrics, the capital has for a number of years been the best city for tech startups, not just in the UK but the whole of Europe. It's no wonder really, given its unrivalled access to talent, its wealth of technical expertise, and its role as one of Europe's biggest transport hubs. In global terms, London is ranked joint second with New York for best startup hub, behind Silicon Valley.
This has proved fertile ground for producing unicorns – businesses valued at $1 billion or more – gaining 20 in 2021 alone and now playing host to 75 in total. Far and away the investment capital of Europe, London has consistently outperformed the rest of Europe in terms of funding, attracting £18.55 billion of venture capital investment in 2021, just over double that of its nearest rival, Berlin.
For commuting into the office, London offers a larger range of options than you will find in any other city: from extensive tube and bus services, to overground lines and a range of cycling routes maintained in most boroughs, most workers will find access to their offices easy. The recent addition of the Elizabeth Line has only made access easier for those living further out, such as the rapidly-growing young professional population of Woolwich.
Key names: Rightmove, Nutmeg, Balderton, Shazam
Leeds: Fastest growing city economy in the UK
Competing with Manchester for the northern crown, Leeds is projected to be the best performing city in the North of England in 2023 when it comes to jobs growth, with 19,200 positions opening up by Q4.
For evidence of job growth in Leeds, one need only look at companies such as Channel 4, Sky and Direct Line operating out of the city already, and the Bank of England and Financial Conduct Authority establishing footholds within Leeds soon.
What's more, every year the city is host to Leeds Digital Festival, which runs for two days in April and two weeks in September, and celebrates every aspect of digital culture from cyber security and startups to fintech, gaming and AI. In all, some 40,000 yearly participants can expect over 400 events on tech, promising exciting opportunities for anyone in the area.
The festival Leeds 2023 will also run all year, to celebrate all things culture, in collaboration with Arts Council England, the British Council, Art Recovery Fund and other sponsors. With a variety of activities taking place throughout the year, there has perhaps never been a stronger time to live and work in Leeds.
Key companies: Leed BJSS
Cambridge: The UK's Silicon Valley
Cambridge has long benefited from hosting one of the most prestigious universities in the world, attracting a wealth of talent on that merit alone. However, as part of the so-called 'Golden Triangle' alongside Oxford and London, the University of Cambridge also receives the majority of state funding for research and development, with university spinouts raising £501m last year alone.
It's perhaps unsurprising to hear, then, that Cambridge has become a hotspot for 'deep tech', or technology that is built from cutting-edge scientific research. The city has become renowned for its artificial intelligence research, and hosts Microsoft, and Samsung research labs to name a few.
Cambridge is also a major contributor to the biotechnology industry, with 46 specialist companies now operating in the area, and the Cambridge Science Park, first built in 1970, now houses over 130 companies, including multinationals such as chemicals company Johnson Matthey and pharmaceuticals giant AstraZeneca.
Key names: Microsoft, Samsung, AstraZeneca
Edinburgh: The tech accelerator
Edinburgh not only holds the title of being Scotland's financial heart, but it also happens to be home to CodeBase, the UK's largest tech incubator. Founded in 2014, the CodeBase site, which operates as an affordable space to launch a startup, has expanded to support over 500 businesses.
The city as a whole has received a surge in investment over the past year as well, with local metasearch engine Skyscanner and investment from companies such as FanDuel driving capital. With an average tech salary of £58,405, Edinburgh also has the highest wage potential for those in the industry outside London.
As an added bonus, Edinburgh ranked #2 overall in a recent study on the best cities for remote working, with factors like good overall broadband speed and lower property prices acting in the city's favour.
It's also worth mentioning that Edinburgh benefits from a wealth of other non-tech features too. The streets are highly pedestrianised and the tram network allows simple travel without having to own a car or take a bus.
Gorgeous vistas, a vibrant culture and the yearly Edinburgh Fringe Festival, the largest arts festival in the world, all make the Scottish capital a worthy rival to London.
​Key names: CodeBase, SkyScanner, FanDuel
Get the ITPro. daily newsletter
Receive our latest news, industry updates, featured resources and more. Sign up today to receive our FREE report on AI cyber crime & security - newly updated for 2023.
Dale Walker is the Managing Editor of ITPro, and its sibling sites CloudPro and ChannelPro. Dale has a keen interest in IT regulations, data protection, and cyber security. He spent a number of years reporting for ITPro from numerous domestic and international events, including IBM, Red Hat, Google, and has been a regular reporter for Microsoft's various yearly showcases, including Ignite. Dale is also the Editor of ITPro 20/20, a monthly digital magazine providing a snapshot of the stories and themes shaping the business tech world. Prior to joining ITPro, Dale secured a Masters degree in Magazine Journalism from the University of Sheffield.
Get the ITPro. daily newsletter
Receive our latest news, industry updates, featured resources and more. Sign up today to receive our FREE report on AI cyber crime & security - newly updated for 2023.
Thank you for signing up to ITPro.. You will receive a verification email shortly.
There was a problem. Please refresh the page and try again.