How Aviva used automation to transform its customer experience
Unable to commit fully to the cloud, Aviva looked to Appian to help modernise its infrastructure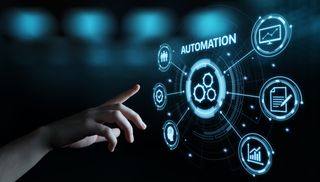 Founded in 2000, Aviva has become one of the most recognised names in general insurance, serving over 33 million customers across 16 territories. With over half of those customers in the UK, it's the country's largest provider and a business dealing with massive volumes of data each day. Aviva receives ten million calls to its customer service division each year, as well as four million letters and two million emails, a flow of communication that needs to be paired with the appropriate advisors.
Keeping pace with data volumes of that size would be a daunting prospect for any business. For Aviva, though, aging infrastructure and a lack of automation of any kind was slowly eroding the company's ability to maintain high levels of customer service piling on extra pressure. The old method was becoming unsustainable, according to Aviva's UK customer services director Hugh Hessing, and for the last four years the company has been working to transform how it operates.
"We had no method of work allocation," says Hessing. "We just took all the demand as it came in. You either took calls or processed letters, and then teams were siloed in response – as you can imagine there was a high level of inefficiency. It was very unsophisticated."
The need to modernise without disruption
Aviva, like many long established companies on legacy systems, was aware it needed to modernise to stay competitive. However, the company faced the mammoth task of trying to move outdated processes, built upon outdated technology, onto a brand new system. This was particularly problematic, as the company is built on long-standing insurance contracts that make changing internal systems difficult.
"An organisation like ours that has many contracts that last 25-30 years on our mainframe engines, isn't an annually renewable business, like motor insurance for example," explains Hessing, In some cases, in an effort to avoid disruption, decade long contracts were running off 30 year old mainframe boxes, while the volume of customers increased and their prefered methods of communication evolved.
"At the time, we didn't have the investment to go and build a brand new digital front end system that did all the bells and whistles," explains Hessing. What's more, up until four or five years ago, Aviva had invested very little in cloud technology as a potential route for future business growth, so a complete technological overhaul was viewed as too disruptive.
Aviva was in the market for a "very simple, quick and deployable capability", and quickly landed on a cloud based task management platform provided by Appian. With Low-Code, Appian uses an approach that facilitates the creation of applications using very little coding knowledge – apps that can be set to automate everyday business processes. It's also able to connect to existing on-premise databases, which was ideal for a company like Aviva that wasn't in the position to start moving vast quantities of data to a third-party cloud network.
"The way in which the software is constructed meant it was able to relatively quickly interface with our infrastructure – so much so that we were starting to see meaningful results within six months, rather than years," says Hessing.
Effiency through automation
Aviva first put the platform to work in its pensions division, one of the company's largest areas in terms of the number of people involved, where it was used to create automated systems that began matching the skills of employees to the cases. "Nothing frustates our customers more than unnecessary delays in dealing with their transactions," explains Hessing. "It set more sophisticated rules, and created huge amounts of efficiency in parts of our pension operations. It immediately allowed us to start serving our customers more quickly than we were."
In its pensions area alone, Aviva has seen a 40% increase in efficiency since implementing Appian's Low-Code platform and has since applied the same automation to wider areas of the business. It now has 40 automated applications that sit on top of existing infrastructure, across pensions, health and general insurance. Most of these cover the typical customer demands, explains Hessing, such as 'I want information'. These sorts of needs are now addressed in less than five minutes, with almost 90% of calls being resolved in the first attempt.
The power of Low-Code
A major Low-Code selling point is its ability to relieve the pressure facing overworked IT departments, particularly as companies start to digitally transform. Matt Calkins, CEO of Appian, explains that the platform requires IT professionals to build the 'objects' – the building blocks needed to create an application – but the ease with which those objects can be used means any employee can, in theory, participate in the process.
"If you reduce the process of building an application to the assembly of Lego bricks, then citizen developers can do something," says Calkins. "They can be useful without hurting themselves. There are some central things that only IT can handle, but peripheral things make sense, little problems that IT may not have gotten to in a long time."
Although Hessing admits that Aviva has yet to "mature" enough with the technology to commit fully, it's in the process of reskilling many of its employees, particularly as those skilled in the use of older mainframe boxes are becoming "scarcer and scarcer by the day". "It has certainly enabled us to make significant progress while not relying on the five or six [IT] people who are already very busy with significant digital change from other parts of the business," he adds.
"Rather than do task management and people management, they're actually looking at data and demand, and what's happening in their system," adds Hessing. "It has helped change our leaders to the way we want them to act and it has opened up more avenues for thinking about new ways we can serve our customers."
Stay up to date with the latest news and analysis from the world of cloud computing with our twice-weekly newsletter
Thank you for signing up to Cloud Pro. You will receive a verification email shortly.
There was a problem. Please refresh the page and try again.